3D Ultrasound Hamilton – UC Baby® –  Creates Special Memories for Pregnant Mothers!
3D ULTRASOUND HAMILTON | HD 5D ULTRASOUND | BABY'S GENDER REVEAL | SNEAK PEEK | HEARTBEAT RECORDING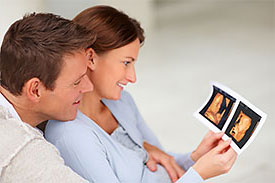 Are you eagerly counting down the days until your baby arrives? Are you looking for a way to capture the magic of this incredible journey even before your little one is here? Look no further than UC Baby® 3D Ultrasound in Hamilton. Our affordable and high-quality service is designed with expectant families like yours in mind.
From the moment you step into our facility, you'll be greeted by our friendly staff, who are dedicated to ensuring that every moment of your visit is memorable.
Experience our HD 5D Ultrasound
Gone are the days of blurry black-and-white images that leave you squinting and guessing. At UC Baby®, we bring your baby to life with state-of-the-art 3D ultrasound / HD 5D ultrasound technology, displaying vivid and clear details that will take your breath away. It is not only about the visuals. It is about creating an experience you and your family will cherish forever.
Imagine sharing this once-in-a-lifetime moment with your loved ones. With UC Baby®, we make it easy for you to invite family and friends to join in the excitement as they witness firsthand those precious kicks, yawns, and stretches of joy. And what better way to remember these beautiful moments than with our unique keepsakes?
Take home personalized images that capture every curve and feature of your little one, heartwarming videos documenting their first interactions, or even cuddly UC Baby Heartbeat Bears that allow you to hold onto their comforting rhythm long after they're born.
We are conveniently located at 702 Upper James St., Hamilton, L9C 2Z8. Our services extend beyond Hamilton to proudly serve families from surrounding areas such as Burlington, Ancaster, Dundas, Stoney Creek, Brantford, Grimsby, St. Catharines, Welland, and even Niagara Falls. We are committed to making this magical experience accessible to many families.
Experience the wonder of seeing your little one before they arrive. We can't wait to be a part of this unforgettable journey with you.
#20PLUSYEARS
Embark on an extraordinary journey with us as we share our incredible story of becoming Canada's top choice for pregnancy 3D ultrasound and HD 5D ultrasound services. For over 20 years, we've been dedicated to bringing unforgettable moments to expecting families.
Join us as we dive into the heartwarming tales that have made us the ultimate choice for capturing your precious memories. We invite you to be a part of our legacy!
3D/4D ultrasound session
Gender Reveal, upon request
Watching baby's activities
Listen to baby's heartbeats
Face and body scan
3D Images in a secure client online account
Printed 4 x 6 photo
FREE Live Broadcasting
FREE Repeat session
FREE Video-on-Demand
SILVER PACKAGE Capture, enjoy and share this unique, real-time experience of the baby growing inside you.

30 minute scan
2 printed photos
If Gender cannot be determined and/or Face is hidden at the initial session.
with purchase of USB
*USB and photos could only be purchased with a 3D ultrasound session.


Ultimate Package (Gender + Silver)
$225
20 minute ultrasound session (no gender det.)
$149
30 minute ultrasound session (no gender det.)
$175
Baby's Gender Reveal (5-10 mins.)
$125
Sneak Peek (12-16 weeks, 2D scan)
$99
3D Pictures / Video on USB (purchase w/ 3D Package)
$30
Printed 4×6 photo (purchase w/ 3D Package)
$10
Video on Demand (w/purchase of USB)
FREE
Heartbeat Bear (with ultrasound session)
$35
Heartbeat Bear (with no recording)
$45
Heartbeat Bear (without ultrasound session)
$75
Heartbeat Recording Session
$85