Advances in ultrasound technology now provide an opportunity for parents-to-be to get closer than ever before to their unborn baby while growing in the womb.
UC Baby's pregnancy ultrasound technology offers families an unforgettable experience to watch their baby's movements and get their first pictures or videos before the birth. UC Baby images are clearer, sharper, and more life-like.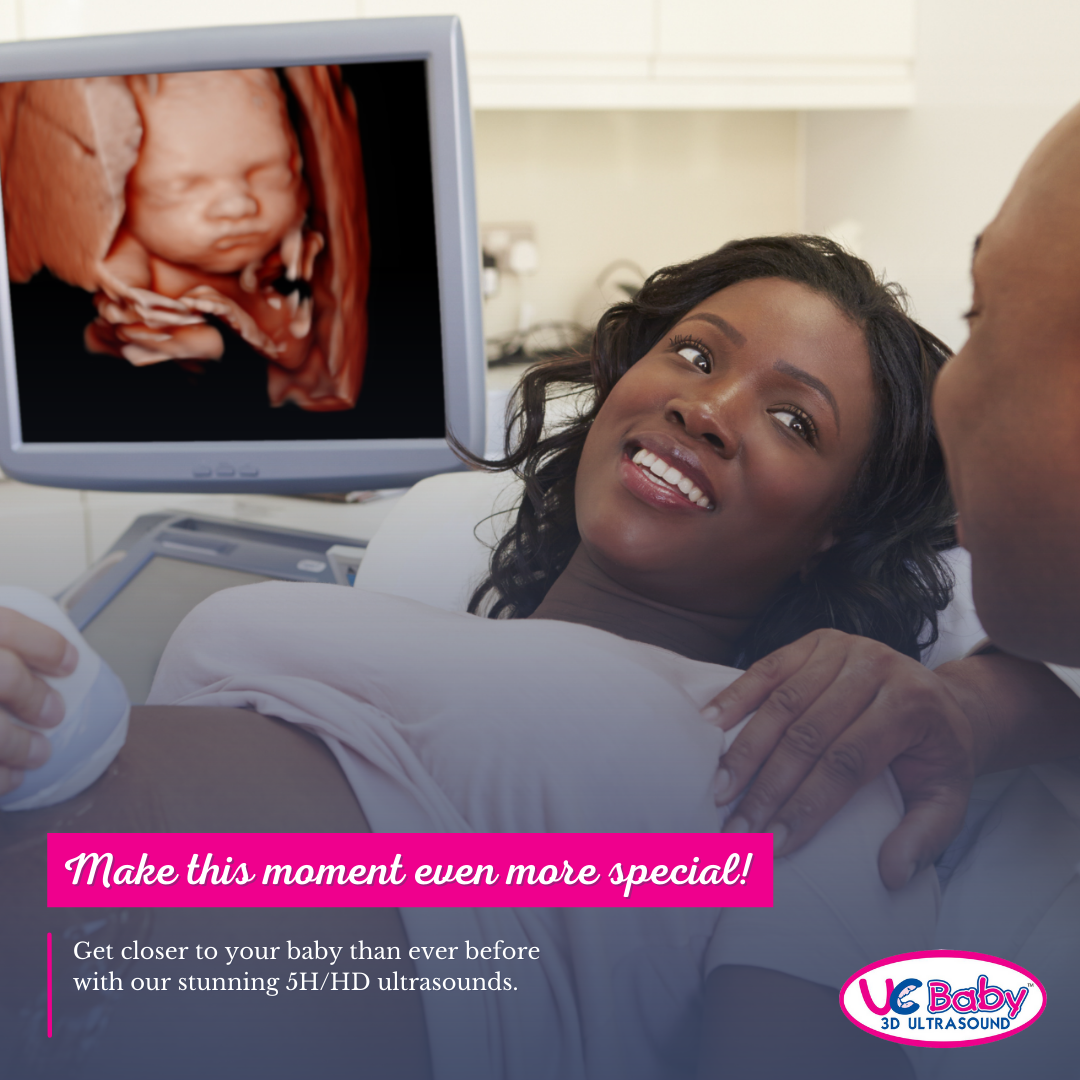 The differences in pregnancy ultrasounds can be confusing for new parents. The technical terms don't always give insight into the advantages of each technology. Here is a simple explanation to differentiate one from the other.
What are the different kinds of pregnancy ultrasound technologies?
2D Ultrasound
2D Ultrasound creates traditional black and white, one plane pictures of the baby. The diagnostic value of these pictures is significant for assessing your baby's health. This type of ultrasound can also be used to determine gender and hear the baby's heartbeat.
Doppler Ultrasound
Doppler ultrasound is a special form of ultrasound and provides information about the flow of blood. Doppler ultrasound shows the heart rate of the baby in a graphic format.
3D Ultrasound
3D Ultrasound images are created by integrating three different angles into one volume picture. These images serve the parents as beautiful keepsakes from the pregnancy.
4D Ultrasound
4D Ultrasound uses 3D technology in motion, with the fourth dimension being time. This technology creates videos of the baby. Parents can watch their baby's kicks, facial expressions, yawns, and even blinking eyes with 4D scans.
5D or High-Definition Ultrasound
5D Ultrasound is the newest development in pregnancy imaging by using advanced software programs. It captures and combines high-definition volume data to create automated images with vivid colour and clarity. The bond between a new baby and the family gets even stronger when the family can view crystal clear pictures of the baby with this technology. The best time to have an HD 5D ultrasound is between 24 and 32 weeks of pregnancy.
So, what is so special about HD 5D ultrasound technology?
Our UC Baby Calgary location was the first facility to bring HD 5D ultrasound technology to Canada. Since then, our St. John's, Halifax-Bedford, Ottawa, Whitby, Vaughan, Mississauga, London, Hamilton, Cambridge, Moncton, Edmonton, Winnipeg, Burnaby, Abbotsford and Victoria locations have added high-definition 5D ultrasound technology to their services.
We can provide sharper, more life-like images with a higher resolution for expecting parents. This new pregnancy ultrasound technology allows families to bond stronger to the baby, with clearer views of the baby's face and movements. With HD 5D ultrasound technology, it is even possible to notice the dimples when the baby smiles!
Our experienced and professionally-trained staff are there to amaze the mothers and their families. We also offer FREE online accounts for captured 2D, 3D, 4D, and HD 5D images/videos in addition to FREE Live Broadcast of the whole ultrasound session. This feature of the UC Baby service is the fastest and easiest way to instantly share your baby's first pictures and videos with friends and family.
---
As of April 2023
Using the latest HD 5D Technology:
Soon to be available at:
UC Baby Barrie
UC Baby Nanaimo
UC Baby Newmarket
UC Baby Richmond
UC Baby Saskatoon
UC Baby Surrey
UC Baby Toronto