3D Ultrasound Abbotsford – UC Baby – Share the Magical Pregnancy Experience with your Family
3D ULTRASOUND ABBOTSFORD | HD 5D ULTRASOUND | BABY'S GENDER REVEAL | SNEAK PEEK | HEARTBEAT RECORDING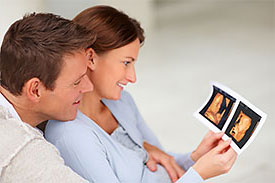 Are you expecting a baby? UC Baby® 3D Ultrasound Abbotsford is here to bring you the most advanced pregnancy ultrasound technology available.
Say hello to your little one in the most incredible way possible. Our personalized and unique service comes highly recommended by countless healthcare professionals, so you know you're in good hands.
Imagine witnessing every detail of your baby's tiny fingers and toes or watching them yawn or hiccup inside the womb. These incredible moments will become cherished memories you'll hold close forever.
Experience our HD 5D Ultrasound
With our cutting-edge HD 5D ultrasound machine, we can capture these intimate moments with such clarity that it amazes you with the experience of seeing your baby on the screen.
But what sets us apart from the rest? At UC Baby, our ultrasounds are performed exclusively by medically trained and certified sonographers specializing in pregnancy ultrasounds. Your safety and accuracy are our top priorities. When you choose UC Baby®, you can have complete peace of mind knowing that you and your baby are in expert hands.
We also understand that convenience is key for expectant moms like you. That's why we've chosen a location that is easily accessible: 1975 McCallum Rd #113, Abbotsford, BC V2S 3N3.  We also serve expecting families from Abbotsford, Chilliwack, Langley, and Kelowna.
Take advantage of this one-of-a-kind opportunity to meet your little one before they even arrive. Book your session at UC Baby® 3D Ultrasound Abbotsford today!
#20PLUSYEARS
Embark on an extraordinary journey with us as we share our incredible story of becoming Canada's top choice for pregnancy 3D ultrasound and HD 5D ultrasound services. For over 20 years, we've been dedicated to bringing unforgettable moments to expecting families.
Join us as we dive into the heartwarming tales that have made us the ultimate choice for capturing your precious memories. We invite you to be a part of our legacy!
3D/4D ultrasound session
Gender Reveal, upon request
Watching baby's activities
Listen to baby's heartbeats
Face and body scan
3D Images in a secure client online account
Printed 4 x 6 photo
FREE Live Broadcasting
FREE Repeat session
FREE Video-on-Demand
SILVER PACKAGE Capture, enjoy and share this unique, real-time experience of the baby growing inside you.

30 minute scan
2 printed photos
If Gender cannot be determined and/or Face is hidden at the initial session.
with purchase of USB
*USB and photos can only be purchased with a 3D ultrasound session.


Ultimate Package (Gender + Silver)
$225
20 minute ultrasound session (no gender det.)
$149
30 minute ultrasound session
(with gender determination, CD of 3D images, 2 photos
$175
Baby's Gender Reveal (5-10 mins.)
$125
Sneak Peek (12-16 weeks, 2D scan)
$99
3D Pictures/Video on USB (purchase w/ 3D Package)
$30
Printed 4×6 photo (purchase w/ 3D Package)
$10
Video on Demand (w/purchase of USB)
FREE
Heartbeat Bear (with ultrasound session)
$35
Heartbeat Bear (with no recording)
$45
Heartbeat Bear (without ultrasound session)
$75
Heartbeat Recording Session
$85