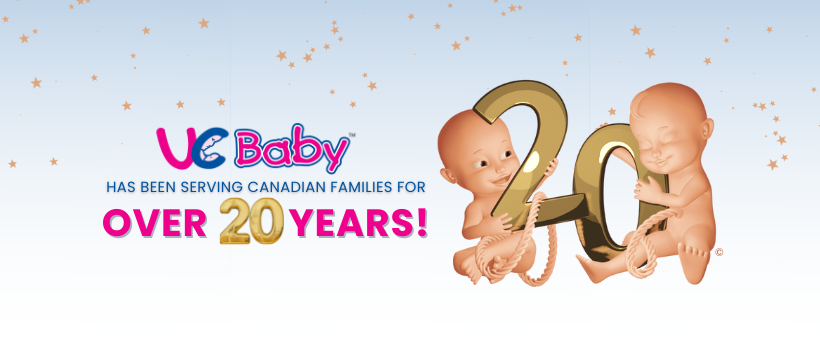 A Journey of Precious Pregnancy Ultrasound Moments with Canadian Families
Welcome to UC Baby, your trusted partner in capturing the precious moments of your pregnancy journey. As we mark our 20th anniversary, we take immense pride in reflecting upon the incredible milestones we have achieved over the years.
Join us as we walk down memory lane and celebrate two decades of joy, innovation, and exceptional service.
2003: UC Baby's Humble Beginnings
In 2003, UC Baby opened its first location in Mississauga, Ontario. With a passion for bringing families closer to the miracle of life, we embarked on a journey to serve clients nationwide. Major marketing events included print ads in local papers and magazines. We also participated in trade shows, which helped us spread the word about our unique services.
2005 – 2008: UC Baby Expanding Horizons
Building on our early success, we expanded to new locations in Ontario, British Columbia, Alberta, Quebec, Nova Scotia and New Brunswick. This period also witnessed significant technological advancements as we introduced Heartbeat Bears, live broadcasts and video-on-demand services. These innovations have allowed expectant parents to cherish the sounds of their baby's heartbeat and share the magical experience with their loved ones.
UC Baby Montreal (2005)
UC Baby Surrey (2005)
UC Baby Cambridge (2006)
UC Baby Vaughan (2006)
UC Baby Edmonton (2007)
UC Baby Halifax (2007)
UC Baby Whitby (2007)
UC Baby Moncton (2007)
UC Baby Vancouver (2007)
UC Baby Ottawa (2007)
UC Baby Toronto (2008)
UC Baby Barrie (2008)
UC Baby Calgary (2008)
UC Baby St Johns (2008)
UC Baby Saskatoon (2008)
UC Baby London (2008)
2009 – 2015: UC Baby invests in Advancing Technology
More locations were added in Manitoba, Saskatchewan, Ontario, BC and Newfoundland, allowing us to reach and serve even more families nationwide.
This period had seen the shift from mainly print media to actively building its online presence. UC Baby changed the old website with a new mobile-friendly layout, more engaging content, and better-optimized performance for a new generation of customers searching for information online.
These online efforts have boosted our top position in page one rankings for organic search results for all our target areas. As we serve more families, the solid reputation of our UC Baby locations for exceptional service has built a strong base of client reviews on Google and Facebook pages.
UC Baby Winnipeg (2009)
UC Baby Victoria (2009)
UC Baby Brampton (2009)
UC Baby Richmond (2009)
UC Baby Abbotsford (2010)
UC Baby Sydney (2010)
2016 – 2020 – UC Baby Pioneering in High-Definition Imaging
More locations are added to the UC Baby franchise list in Ontario, Quebec, Nova Scotia, and BC during this five-year period.
Continuing our commitment to excellence, we embraced 5D ultrasound technology during this period. This cutting-edge technology brought a new level of clarity and realism to the ultrasound images, providing parents with an unparalleled glimpse into the world of their unborn child.
As pioneers in the industry, we launched our first HD machine in Calgary in 2017. This breakthrough innovation revolutionized the way parents experienced their ultrasound sessions, offering unprecedented clarity and detail.
To further enhance convenience and accessibility, we introduced a new client system for free and private cloud accounts, enabling our clients to store and share their precious ultrasound images securely.
UC Baby Quebec (2018)
UC Baby Halifax Center (2018)
UC Baby Newmarket (2018)
Year 2021 – Present: Introducing UC Baby Connect – An Immersive Experience
In recent years, UC Baby has been focused on providing expectant parents with an unparalleled level of connectivity and engagement through UC Baby Connect. This innovative platform brings the ultrasound experience to a new level, allowing parents to stream their ultrasound sessions and access their cloud accounts securely and seamlessly.
Capturing Your Journey: The UC Baby Experience
At UC Baby, we understand the significance of your pregnancy journey. Our experienced team provides a warm, comfortable, personalized ultrasound session. With our cutting-edge technology and expertise, we offer services such as pregnancy ultrasounds, sneak peek, gender reveal or sex determination scans, 3D ultrasounds, 5D ultrasounds, and HD ultrasounds.
Sharing the Magic: UC Baby's 5000+ Client Reviews
Experience the joy and satisfaction shared by our valued clients through their testimonials. Visit our Testimonials page to read heartwarming stories and glowing 5-star pregnancy ultrasound client reviews from parents who have had an unforgettable UC Baby experience. Their words reflect the trust and appreciation they have for our services.
There are also numerous customer reviews on our Google listings and Facebook pages, which highlight our clients' positive UC Baby experience. To date, UC Baby has over 5,800 Google reviews.
Click here to read our Client Reviews.
Serving Over 400,000 Canadian Families
Throughout our remarkable 20-year journey, we have had the privilege of serving over 400,000 families. Each client has become a part of our UC Baby family, and we are honored to have been a part of their joyous pregnancy moments.
As we reflect on our 20-year legacy, we cherish the memories we've created with our clients. It's heartwarming to see how the first clients we served are now 20 years old and may soon embark on their own journey of parenthood. We are humbled by the opportunity to introduce the next generation of UC Baby Families to the same exceptional care and magical experiences that have defined our brand over the years.
With the passing of time, our commitment to providing the best prenatal imaging services and creating unforgettable family experiences has only grown stronger. We understand that pregnancy is a journey filled with anticipation, love, and wonder. And we are dedicated to ensuring that expectant parents and their loved ones cherish every moment at UC Baby.
From our UC Baby facilities' warm and inviting atmosphere to the personalized care and attention we provide, we strive to make every visit a memorable and joyous occasion for the entire family. We welcome new families into our UC Baby community with open arms. And we look forward to sharing in the excitement of their pregnancy moments.
Embrace the Celebration: #20PLUSYEARS
Join us in celebrating our 20th anniversary by using the hashtag #20PLUSYEARS. Share your UC Baby moments, stories, and memories on social media, connecting with a community that has grown over two decades. Let's spread the love and joy that UC Baby has brought to families across Canada.
Explore UC Baby Locations Nationwide
UC Baby has expanded its presence nationwide, bringing the magic of prenatal imaging closer to you. From our first location in UC Baby Mississauga (Ontario) to our most recently opened location in UC Baby Red Deer (Alberta), our multiple locations ensure that you can access our exceptional services conveniently.
Visit our Locations page to find the nearest UC Baby location and schedule an appointment.
As we celebrate 20 years of UC Baby, we extend our heartfelt gratitude to our valued clients and dedicated team members who have been integral to this incredible journey.
Join us in capturing the precious moments of your pregnancy, creating memories that will last a lifetime.
Visit our Locations page to find the nearest UC Baby location and schedule an appointment.