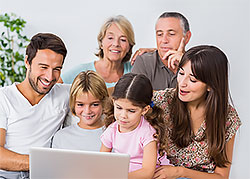 FREE Live Broadcasting and Video On Demand! YES! It's true.
UC Baby has invested a substantial amount of time and resources in providing this new innovative service, and best of all, it is Free to UC Baby clients!
Using our secure online account through UC BABY CONNECT, you will get instant access to your baby's images immediately after you finish your UC Baby 5D and 3D ultrasound sessions. You can share the experience with your loved ones right away!
You could also get our FREE Live Broadcast and Video-on-Demand services included with your HD/5D and 3D Ultrasound packages. With UC Baby's live broadcasting, your 3D ultrasound session can be viewed LIVE anywhere in the world!
Your family, friends, and loved ones would be able to share the enjoyment of viewing and listening to your ultrasound session and, most importantly, be able to participate in one of the most exciting moments of your pregnancy.
UC Baby is honored to have the ability to broadcast live sessions to nearly every country in the world, from Alaska to New Zealand and even troops serving in Afghanistan. If your loved ones cannot join your session in person, let them have the next best thing, the FREE UC BABY Live Broadcast or Video On Demand Program!
Our FREE Live Broadcasting and VOD service is another reason why UC Baby is the right destination for your 3D Ultrasound experience!
For more information, please contact your nearest location.