UC Baby® Burnaby – Vancouver offers the latest 4D / 3D Ultrasound technology in pregnancy imaging
3D ULTRASOUND BURNABY | HD 5D ULTRASOUND | BABY'S GENDER REVEAL | SNEAK PEEK | HEARTBEAT RECORDING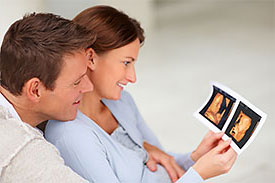 Step into a world of wonder and excitement at our UC Baby Burnaby 3D ultrasound center. We understand that every moment of your baby's journey is extraordinary. UC Baby is dedicated to ensuring you can cherish those moments forever. That's why we offer the latest high-definition pregnancy ultrasound technology, providing breathtaking images that will leave you in awe.
But our commitment to excellence doesn't stop there – we go above and beyond to ensure you have the best possible experience.
Experience our New HD 5D Ultrasound
Unlike ordinary 2D or 3D ultrasounds, our state-of-the-art HD 5D ultrasound vividly brings your baby to life. You'll be able to see every tiny feature and movement with stunning clarity, creating an unforgettable experience filled with joy and special memories. From their little button nose to tiny fingers and toes, those stunning life-like images will amaze you.
With our high-quality 3D ultrasound / HD 5D ultrasound service, you'll also enjoy free live streaming and have the option to add Video-on-Demand to your services. Imagine sharing this incredible journey with your loved ones as they share in your joy and excitement.
Located conveniently at Boundary View Plaza on Hastings St., Burnaby, BC V5C 2H6, we take pride in bringing these joyful moments to families across Burnaby and the entire Vancouver area. Our team of highly trained technicians is dedicated to capturing images that will fill your heart with pure joy and anticipation for the arrival of your little one.
Trust us when we say – this is a moment you won't ever want to forget.
#20PLUSYEARS
Embark on an extraordinary journey with us as we share our incredible story of becoming Canada's top choice for pregnancy 3D ultrasound and HD 5D ultrasound services. For over 20 years, we've been dedicated to bringing unforgettable moments to expecting families.
Join us as we dive into the heartwarming tales that have made us the ultimate choice for capturing your precious memories. We invite you to be a part of our legacy!
3D/4D ultrasound session
Gender Reveal, upon request
Watching baby's activities
Listen to baby's heartbeats
Face and body scan
3D Images in a secure client online account
Printed 4 x 6 photo
FREE Live Broadcasting
FREE Repeat session
FREE Video-on-Demand
SILVER PACKAGE Capture, enjoy and share this unique, real-time experience of the baby growing inside you.

30 minute scan
2 printed photos
If Gender cannot be determined and/or Face is hidden at the initial session.
with purchase of USB
*USB and photos can only be purchased with a 3D ultrasound session.


Ultimate Package (Gender + Silver)
$225
20 minute ultrasound session (no gender det.)
$149
30 minute ultrasound session
(with gender determination, CD of 3D images, 2 photos
$175
Baby's Gender Reveal (5-10 mins.)
$125
Sneak Peek (12-16 weeks, 2D scan)
$99
3D Pictures/Video on USB (purchase w/ 3D Package)
$30
Printed 4×6 photo (purchase w/ 3D Package)
$10
Video on Demand (w/purchase of USB)
FREE
Heartbeat Bear (with ultrasound session)
$35
Heartbeat Bear (with no recording)
$45
Heartbeat Bear (without ultrasound session)
$75
Heartbeat Recording Session
$85