3D Ultrasound Technology at UC Baby® Barrie Center brings a Memorable Experience for Families
3D ULTRASOUND BARRIE | 4D ULTRASOUND | BABY'S GENDER REVEAL | SNEAK PEEK | HEARTBEAT RECORDING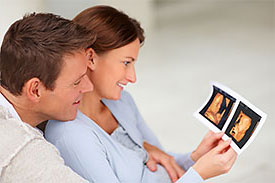 Welcome to UC Baby®, where we offer a state-of-the-art ultrasound service that allows you to cherish the pregnancy miracle with your loved ones. No moment is more magical than seeing your baby for the first time in realistic images.
Our friendly and experienced ultrasound technicians specialize in baby and pregnancy ultrasounds at our UC Baby Barrie clinic. We understand the importance of this unique bonding experience and are committed to providing exceptional care.
We pride ourselves on our high standards and commitment to excellence. Our cutting-edge technology enables us to capture realistic images of your baby. This allows you to cherish every detail of this incredible bonding experience. Every feature will come to life right before your eyes, from the tiny toes to the button nose.
As a leading provider of prenatal imaging services, we offer a range of packages tailored to meet your specific needs. We have a basic early pregnancy package to capture those precious first images. Or we can offer you a comprehensive package that includes additional features such as gender determination or Heartbeat Bears.  
Not only are we highly regarded by medical professionals for our expertise in pregnancy 3D ultrasounds, but we are also trusted by countless parents who have chosen us as their preferred ultrasound provider. The positive feedback from satisfied families speaks volumes about our dedication to delivering exceptional care and creating meaningful experiences during this special time in your life.
We understand that pregnancy can be a time filled with anticipation, and we are here to make it even more special. Let UC Baby® Barrie be a part of your pregnancy journey, capturing beautiful memories that will last a lifetime.
Visit us at 15 Cedar Pointe Drive in Barrie, ON L4N5R7. Let us be a part of your remarkable journey towards parenthood and help create memories that will last a lifetime.
#20PLUSYEARS
Embark on an extraordinary journey with us as we share our incredible story of becoming Canada's top choice for pregnancy 3D ultrasound and HD 5D ultrasound services. For over 20 years, we've been dedicated to bringing unforgettable moments to expecting families.
Join us as we dive into the heartwarming tales that have made us the ultimate choice for capturing your precious memories. We invite you to be a part of our legacy!
3D/4D ultrasound session
Gender Reveal, upon request
Watching baby's activities
Listen to baby's heartbeats
Face and body scan
3D Images in a secure client online account
Printed 4 x 6 photo
FREE Live Broadcasting
FREE Repeat session
FREE Video-on-Demand
SILVER PACKAGE Capture, enjoy and share this unique, real-time experience of the baby growing inside you.

30 minute scan
2 printed photos
If Gender cannot be determined and/or Face is hidden at the initial session.
with purchase of  USB
p>*USB and photos can only be purchased with a 3D ultrasound session.


Ultimate Package (Gender + Silver)
$225
20 minute ultrasound session (no gender det.)
$149
30 minute ultrasound session (no gender det.)
$175
Baby's Gender Reveal (5-10 mins.)
$125
Sneak Peek (12-16 weeks, 2D scan)
$99
3D Pictures/Video on USB (purchase w/ 3D Package)
$30
Printed 4×6 photo (purchase w/ 3D Package)
$10
Video on Demand ( w/purchase of USB)
FREE
Heartbeat Bear (with ultrasound session)
$35
Heartbeat Bear (with no recording)
$45
Heartbeat Bear (without ultrasound session)
$75
Heartbeat Recording Session
$85