UC Baby® 3D/HD Ultrasound is in Quebec City!
PREGNANCY ULTRASOUND |  3D HD ULTRASOUND | BABY'S GENDER REVEAL | HEARTBEAT RECORDING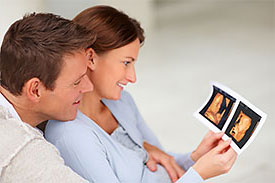 UC Baby® is now offering its unique 3D / 4D Ultrasound services in Quebec City! Our affordable and high-quality pregnancy ultrasounds bring pleasure to your pregnancy. Our family-friendly facility and professional staff make the 3D Ultrasound as a very special experience to meet your baby. We invite you and your loved ones to UC Baby®'s ultrasound session, which would create unforgettable memories and one-of-a-kind keepsake.
Pregnancy is that special stage in a family's life to cherish. UC Baby® streams your pregnancy ultrasound to share your experience with your family and friends. UC Baby®'s 3D Ultrasound clinic in Quebec City invites your guests by Live Broadcasting. You and your guests can view the activities of your baby at the same time to start a great bonding experience and learn the gender of the baby during your ultrasound scan.
We also create unique keepsakes with your baby's heartbeats. UC Baby®'s Heartbeat Bears are very popular among families who are expecting. They can be very special gifts for grandparents, siblings, friends and for your baby shower participants.
We are accessible and conveniently located at 211-802 Av. du Chanoine-Scott, Québec, QC G1V 1V3
3D/4D ultrasound session
Gender Reveal, upon request
Watching baby's activities
Listen to baby's heartbeats
Face and body scan
3D Images in a secure client online account
Printed 4 x 6 photo
FREE Live Broadcasting
FREE Repeat session
FREE Video-on-Demand
SILVER PACKAGE Capture, enjoy and share this unique, real-time experience of the baby growing inside you.

30 minute scan
2 printed photos
If Gender cannot be determined and/or Face is hidden at the initial session.
with purchase of USB
*USB and photos can only be purchased with a 3D ultrasound session.


Ultimate Package(Gender + Silver)
$225
20 minute ultrasound session (no gender reveal)
$149
30 minute ultrasound session (no gender reveal)
$175
Baby's Gender Reveal (5-10 mins.)
$125
Sneak Peek (12-16 weeks, 2D scan)
$99
3D Pictures/Video on USB (purchase w/ 3D Package)
$30
Printed 4×6 photo (purchase w/ 3D Package)
$10
Video on Demand (w/purchase ofUSB)
FREE
Heartbeat Bear (with ultrasound session)
$35
Heartbeat Bear (with no recording)
$45
Heartbeat Bear (without ultrasound session)
$75
Heartbeat Recording Session
$85