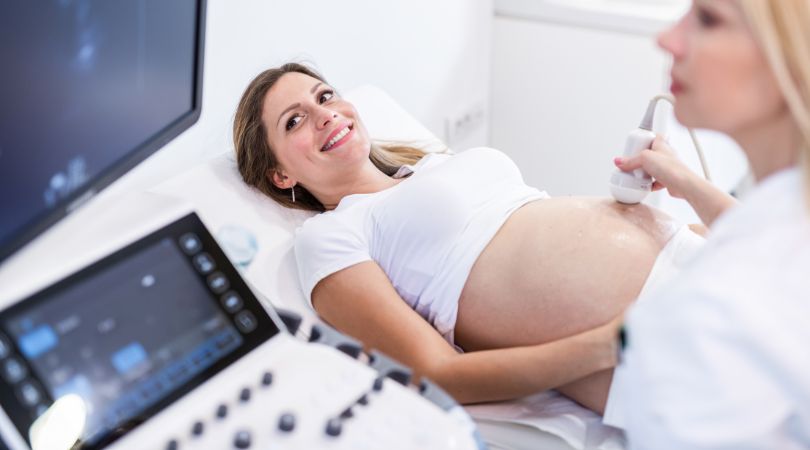 Are you curious to find out the gender of your baby? As you eagerly await the arrival of your bundle of joy, the question of your baby's gender might be on your mind. Everyone is excited to help you plan for your gender reveal party.  Family and friends might even play the guessing game based on some age-old gender prediction myths.
Craving salty or sweet foods?

Are you experiencing morning sickness?

Are you carrying low or high?

Is your belly rounded or wide
Now, here's a little dose of reality with a side of humor – those myths are just myths! They don't have any scientific backing or medical credibility. So, whether you're reaching for a pickle jar or indulging in a scoop of ice cream, and even if the morning sickness hits you like a wave, rest assured that these tales won't hold the key to your baby's gender.  While those myths can be fun, let's explore the realm of accurate gender determination so you can confidently plan your nursery decor!
Accurate and Reliable Gender Insights: UC Baby's Gender Reveal Services
At UC Baby, we understand your excitement as an expectant parent. You're counting down the days until your little bundle of joy arrives, and we're here to make this journey even more special and truly unforgettable.
Imagine being able to determine your baby's gender in a way that seems like magic – yet feels very, very real.
With our innovative Baby Gender Determination services, you can do just that! Our team of internationally trained medical professionals is here to provide an unforgettable experience that will leave you feeling overjoyed and connected like never before. With our state-of-the-art technology and expertise, we bring the magic of your baby's world to life. We capture every precious detail so that you can share this incredible milestone with your loved ones.
Pregnancy Ultrasound Session: Gender Reveal at 16 weeks
Get ready to be amazed! With our "Gender Reveal" sessions, you can get a sneak peek of your baby's development as early as 16 weeks. Get ready for a truly breathtaking experience as high-definition ultrasound technology brings the joy of anticipation to life right before your eyes.
Gender Determination is also bundled with our other 3D / HD 5D ultrasound packages. With the Bronze, Silver and Golden Packages, you will see your baby move, listen to their heartbeats, and witness their unique expressions. Our expert staff will be there every step of the way, ensuring that this moment is not only exciting but also reliable and unforgettable.
Gender Blood Test: Unveiling Gender at 9 Weeks
Our revolutionary Baby Gender Blood Test is here to give you a sneak peek into your baby's gender as early as 9 weeks! Curious to know how it works? It's simple.
We delicately collect a tiny blood sample from your finger during this quick and easy procedure. Don't worry. It's gentle and painless! Now, let's dive into the science behind it all. When a biological female carries a female fetus, her blood won't contain any traces of the Y chromosome. That's why we focus on precisely detecting and investigating the presence of the elusive Y chromosome. If our test reveals the presence of this little genetic warrior, congratulations – you're expecting a precious baby boy! On the other hand, if we don't detect the Y chromosome, you will most likely have an adorable baby girl on the way.
Our commitment to precision and reliability drives every aspect of our work. With a steadfast focus on accuracy, we have established a meticulous procedure that guarantees contaminant-free blood tests, ensuring precise and dependable results.
EarlyReveal Gender Blood Test
And this is why we have partnered with EarlyReveal for the baby gender blood test collection and processing using their Clinical Baby Gender Detection Test.
EarlyReveal empowers parents by giving them a sense of connection to their baby weeks earlier than traditional methods. They do this by addressing one of the most significant uncertainties for expecting parents – the gender of their baby.
EarlyReveal exemplifies a commitment to delivering trustworthy and timely results. This shared dedication to accuracy and client satisfaction solidifies our collaboration with EarlyReveal, making them the ideal partner to uphold the high-quality service that UC Baby has been known for.
So why wait? Unveil the secret of your baby's gender at just 9 weeks with our Gender Blood Test Service available at select UC Baby Locations. Get ready to embark on an incredible journey of joy and anticipation.
Embrace the Pregnancy Journey with Confidence
As you welcome your little one, let UC Baby be part of your pregnancy journey. At UC Baby, we pride ourselves on providing high-quality service that goes beyond expectations. Our licensed team has delivered excellence in 3D ultrasound services across Canada for over two decades. Trust UC Baby to provide a memorable 3D and HD 5D ultrasound experience for you and your baby.
With our reliable services, you can more appropriately prepare for the arrival of the family's new bundle of joy. Experience the joy of anticipation – visit us at www.ucbaby.ca
Let us be a part of your incredible journey towards parenthood.