3D Ultrasound – UC Baby®  – The Number One Choice in London, Ontario
3D ULTRASOUND LONDON | HD 5D ULTRASOUND | BABY'S GENDER REVEAL | SNEAK PEEK | HEARTBEAT RECORDING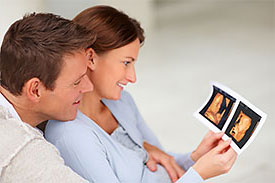 Welcome to UC Baby® London, where your baby's first glimpse becomes an unforgettable experience. As Canada's leader in 3D ultrasound / HD 5D ultrasound pregnancy services, we pride ourselves on offering top-notch care and cutting-edge technology that surpasses all others.
Step into our state-of-the-art 3D ultrasound / HD 5D ultrasound clinic in London, Ontario and the experience of seeing your baby's images in such stunning clarity and detail will amaze you.
What truly makes UC Baby® special is our belief that pregnancy is a journey best shared and celebrated with loved ones. Our goal is to make it possible for you to share this extraordinary bonding experience with those who matter most. That's why we're thrilled to extend an invitation to your loved ones to join you in this unforgettable experience. We also offer Live Streaming and Video-on-Demand services for your loved ones who cannot join you in person during the session. This is a way for them to become a part of this precious family moment.
Convenience matters to busy, expectant parents like you. That's why we've made sure our location at 310 Wellington Road, London, ON N6C 4P4, is easily accessible to you and our guests.
With over 20 years of experience, we've built a rock-solid reputation for excellence. Don't just take our word for it – check out the glowing reviews from Canadian families who chose UC Baby® as their number-one choice.
Let us be part of your pregnancy story and help you create memories that will last a lifetime.
#20PLUSYEARS
Embark on an extraordinary journey with us as we share our incredible story of becoming Canada's top choice for pregnancy 3D ultrasound and HD 5D ultrasound services. For over 20 years, we've been dedicated to bringing unforgettable moments to expecting families.
Join us as we dive into the heartwarming tales that have made us the ultimate choice for capturing your precious memories. We invite you to be a part of our legacy!
3D/4D ultrasound session
Gender Reveal, upon request
Watching baby's activities
Listen to baby's heartbeats
Face and body scan
3D Images in a secure client online account
Printed 4 x 6 photo
FREE Live Broadcasting
FREE Repeat session
FREE Video-on-Demand
SILVER PACKAGE Capture, enjoy and share this unique, real-time experience of the baby growing inside you.

30 minute scan
2 printed photos
If Gender cannot be determined and/or Face is hidden at the initial session.
with purchase of USB
*USB and photos could only be purchased with a 3D ultrasound session.


Ultimate Package (Gender + Silver)
$225
20 minute ultrasound session (no gender det.)
$149
30 minute ultrasound session (no gender det.)
$175
Baby's Gender Reveal (5-10 mins.)
$125
Sneak Peek (12-16 weeks, 2D scan)
$99
3D Pictures / Video on USB (purchase w/ 3D Package)
$30
Printed 4×6 photo (purchase w/ 3D Package)
$10
Video on Demand (w/purchase of USB)
FREE
Heartbeat Bear (with ultrasound session)
$35
Heartbeat Bear (with no recording)
$45
Heartbeat Bear (without ultrasound session)
$75
Heartbeat Recording Session
$85