High Quality 3D/5D Ultrasound Center in Vaughan – UC Baby® – Recommended by Families
3D ULTRASOUND VAUGHAN | HD 5D ULTRASOUND | BABY'S GENDER REVEAL | SNEAK PEEK | HEARTBEAT RECORDING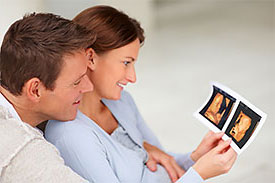 Imagine the joy and excitement of witnessing every movement and expression of your precious baby before they even enter the world. At UC Baby®, we understand that pregnancy is a time filled with anticipation and love. And we are here to help you capture those extraordinary moments.
When capturing the magic of pregnancy like no one else can, trust UC Baby®. Our team of experienced professionals understands the importance of this special time in your life and will go above and beyond to ensure every moment is cherished.
Experience the New HD 5D technology
With our advanced quality 3D ultrasound / HD 5D ultrasound service, we offer a unique bonding experience that goes beyond traditional ultrasounds. We aim to provide you and your family with memories that will last a lifetime. We believe in the power of technology to bring you closer to your little one, even before their arrival.
Gone are the days when you had to wait anxiously for the birth of your baby to catch a glimpse of their adorable face or tiny fingers. With our state-of-the-art scans, you can now witness all the amazing activities inside the womb in stunning high-definition detail. Imagine seeing your baby yawn, stretch, or suck their thumb alongside your loved ones in our comfortable ultrasound rooms.
Convenience is essential, so we have ensured that our UC Baby Vaughan location at 200 Edgeley Blvd, Unit 18 in Vaughan, ON L4K 3Y8, is easily accessible for expecting parents like yourself. We serve also serve expecting families from Thornhill, Richmond Hill and Markham. We want this experience to be hassle-free for you so that you can focus on creating beautiful memories with your growing family.
So why wait? Embrace this incredible bonding experience. Allow us to help you create precious memories that will melt your heart every time you look back on them. Your little one's journey starts here with us.
#20PLUSYEARS
Embark on an extraordinary journey with us as we share our incredible story of becoming Canada's top choice for pregnancy 3D ultrasound and HD 5D ultrasound services. For over 20 years, we've been dedicated to bringing unforgettable moments to expecting families.
Join us as we dive into the heartwarming tales that have made us the ultimate choice for capturing your precious memories. We invite you to be a part of our legacy!
3D/4D ultrasound session
Gender Reveal, upon request
Watching baby's activities
Listen to baby's heartbeats
Face and body scan
3D Images in a secure client online account
Printed 4 x 6 photo
FREE Live Broadcasting
FREE Repeat session
FREE Video-on-Demand
SILVER PACKAGE Capture, enjoy and share this unique, real-time experience of the baby growing inside you.

30 minute scan
2 printed photos
If Gender cannot be determined and/or Face is hidden at the initial session.
with purchase of USB
*USB and photos can only be purchased with a 3D ultrasound session.


Ultimate Gender (Gender + Silver)
$225
20 minute ultrasound session (no gender det.)
$149
30 minute ultrasound session (no gender det.)
$175
Baby's Gender Reveal (5-10 mins.)
$125
Sneak Peek (12-16 weeks, 2D scan)
$99
3D Pictures/Video on USB (purchase w/ 3D Package)
$30
Printed 4×6 photo (purchase w/ 3D Package)
$10
Video on Demand (w/purchase of USB)
FREE
Heartbeat Bear (with ultrasound session)
$35
Heartbeat Bear (with no recording)
$45
Heartbeat Bear (without ultrasound session)
$75
Heartbeat Recording Session
$85