3D Ultrasound Cambridge, ON – UC Baby – Get the Very Best Experience
3D ULTRASOUND CAMBRIDGE | HD 5D ULTRASOUND | BABY'S GENDER REVEAL | SNEAK PEEK | HEARTBEAT RECORDING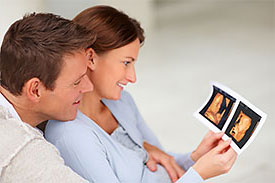 Are you eagerly anticipating the arrival of your little bundle of joy?
UC Baby®, the trusted leader in 3D ultrasound and HD 5D ultrasound in Cambridge, ON, is here to make your experience truly extraordinary. We're all about capturing those precious moments and creating memories that will last a lifetime.
Pregnancy is an incredible adventure filled with wonder and anticipation. That's why at UC Baby®, we've invested in cutting-edge technology and assembled a team of experts passionate about giving you an unforgettable glimpse into your baby's world. With our state-of-the-art equipment, you'll see every little detail – from their tiny fingers and toes to their adorable button nose. And if you're lucky, you might even catch them waving or flashing a smile!
But it doesn't end there. We want you to leave UC Baby® with more than just stunning images – we want you to take home cherished keepsakes that will bring joy for years to come. Our UC Baby Heartbeat Bears, printed photos, and videos allow you to relive these magical moments whenever your heart desires.
Sharing the excitement with loved ones has never been easier. Our secure online platform lets you easily share your baby's first images through Live Streaming or Video-on-Demand. Spread the joy and let everyone share in the anticipation of meeting your little bundle of joy!
Conveniently located at 140 Hespeler Road, Unit D in Cambridge, ON N1R 3H2, we serve expecting families from Cambridge, Kitchener, Waterloo, and beyond.
Your journey into parenthood will become even more amazing with UC Baby® by your side. We can't wait to meet you and be part of this incredible chapter in your life!
#20PLUSYEARS
Embark on an extraordinary journey with us as we share our incredible story of becoming Canada's top choice for pregnancy 3D ultrasound and HD 5D ultrasound services. For over 20 years, we've been dedicated to bringing unforgettable moments to expecting families.
Join us as we dive into the heartwarming tales that have made us the ultimate choice for capturing your precious memories. We invite you to be a part of our legacy!
3D/4D ultrasound session
Gender Reveal, upon request
Watching baby's activities
Listen to baby's heartbeats
Face and body scan
3D Images in a secure client online account
Printed 4 x 6 photo
FREE Live Broadcasting
FREE Repeat session
FREE Video-on-Demand
SILVER PACKAGE Capture, enjoy and share this unique, real-time experience of the baby growing inside you.

30 minute scan
2 printed photos
If Gender cannot be determined and/or Face is hidden at the initial session.
with purchase of USB
*USB and photos can only be purchased with a 3D ultrasound session.


Ultimate Package (Gender + Silver)
$199
20 minute ultrasound session (no gender det.)
$135
30 minute ultrasound session (no gender det.)
$150
Baby's Gender Reveal (5-10 mins.)
$99
Sneak Peek (12-16 weeks, 2D scan)
$79
3D Pictures/Video on USB (purchase w/ 3D Package)
$30
Printed 4×6 photo (purchase w/ 3D Package)
$5
Video on Demand (w/purchase of USB)
FREE
Heartbeat Bear (with ultrasound session)
$35
Heartbeat Bear (with no recording)
$45
Heartbeat Bear (without ultrasound session)
$75
Heartbeat Recording Session
$65