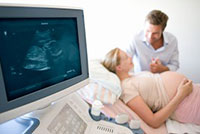 UC Baby® Saskatoon offers a relaxing and enjoyable experience to pregnant moms who look for amazing 3D Ultrasound service. The family oriented environment at our 3D ultrasound room is designed for you and your family's comfort as we aim to provide you the best experience you can have in Saskatchewan. UC Baby® is gold standard when it comes to 3D ultrasound in Canada.
Dr. Tina Ureten, a medical expert with more than 25 years of experience in ultrasounds had set the clinic up with following medical standards, and provides training to our technicians on a regular basis.
UC Baby®'s 3D ultrasound centers are the number one choice for high quality elective 3D ultrasound service across Canada. You and your baby deserve only the best, and that is what we are offering to expectant families in Saskatchewan at our 3D ultrasound facility in Saskatoon.