UC Baby® – Offering the Best 3D Ultrasound Service in Mississauga
3D ULTRASOUND MISSISSAUGA | HD 5D ULTRASOUND | BABY'S GENDER REVEAL | SNEAK PEEK | HEARTBEAT RECORDING
We are open on SATURDAYS and SUNDAYS!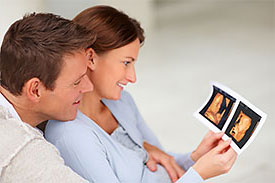 Welcome to UC Baby® Mississauga, where the magic of bonding with your baby reaches new heights. As proud pioneers in the field, we have provided expectant parents across Canada with the latest and greatest state-of-the-art pregnancy ultrasound technology since 2003.
We focus on providing exceptional services to our clients. Our team of highly skilled ultrasound professionals utilizes the most advanced high-definition 5D ultrasound technology, allowing us to capture crystal-clear images of your precious little one. Every detail and feature is brought to life right before your eyes.
But it's not just about the visuals. We understand that expectant mothers have unique needs and desires during this special time. Our mission is to make each session as comfortable and enjoyable as possible. From the moment you enter our clinic, you will be greeted by our friendly and professional staff, who are dedicated to providing you with an unforgettable experience you'll cherish with your family forever.
At UC Baby® Mississauga, we believe sharing these incredible moments with your loved ones is important. That's why we offer Live Streaming and Video on Demand features. So, no matter where they are, they can witness every magical moment alongside you. Whether it's a grandparent unable to travel or a partner stationed overseas, they can feel connected and involved throughout this incredible journey.
We are conveniently located on 5659 McAdam Road, Unit A3, Mississauga, ONL4Z 1N9
and easily accessible to expecting parents and their guests. The whole family will enjoy a truly immersive 3D ultrasound /HD 5D ultrasound experience.
Witness firsthand the joy of discovering your baby's gender or treasure beautiful video recordings that will become treasured memories for years.
#20PLUSYEARS
Embark on an extraordinary journey with us as we share our incredible story of becoming Canada's top choice for pregnancy 3D ultrasound and HD 5D ultrasound services. For over 20 years, we've been dedicated to bringing unforgettable moments to expecting families.
Join us as we dive into the heartwarming tales that have made us the ultimate choice for capturing your precious memories. We invite you to be a part of our legacy!
3D/4D ultrasound session
Gender Reveal, upon request
Watching baby's activities
Listen to baby's heartbeats
Face and body scan
3D Images in a secure client online account
Printed 4 x 6 photo
FREE Live Broadcasting
FREE Repeat session
FREE Video-on-Demand
SILVER PACKAGE Capture, enjoy and share this unique, real-time experience of the baby growing inside you.

30 minute scan
2 printed photos
If Gender cannot be determined and/or Face is hidden at the initial session.
with purchase of USB
*USB and photos can only be purchased with a 3D ultrasound session.


Ultimate Package (Gender + Silver)
$225
20 minute ultrasound session (no gender det.)
$149
30 minute ultrasound session (no gender det.)
$175
Baby's Gender Reveal (5-10 mins.)
$125
Sneak Peek (12-16 weeks, 2D scan)
$99
3D Pictures/Video on USB (purchase w/ 3D Package)
$30
Printed 4×6 photo (purchase w/ 3D Package)
$10
Video on Demand ( w/purchase of USB)
FREE
Heartbeat Bear (with ultrasound session)
$35
Heartbeat Bear (with no recording)
$45
Heartbeat Bear (without ultrasound session)
$75
Heartbeat Recording Session
$85