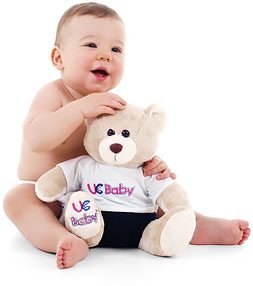 Capture the Most Beautiful Sound – Your Baby's Heartbeats
Experience the magic of your baby's heartbeat like never before with
UC BABY® Heartbeat Bears®. The soothing rhythm that fills your heart can be captured and cherished forever. Our state-of-the-art technology allows you to preserve this indescribable beauty, giving you a tangible connection to your little one even before they arrive.
With UC BABY®, you can choose from an array of adorable and huggable bears, each one designed to hold precious memories close to your heart.
Whether you're looking for a keepsake for yourself or the perfect gift for an expectant parent, our UC BABY® Heartbeat Bears® make a truly unique and meaningful choice. Every time you squeeze their plush bodies, you'll remember the incredible miracle growing inside you.
Listening to Baby's Heartbeats: A Gift of Joy for Grandparents
These adorable UC BABY® teddy bears aren't just sentimental gifts for expectant parents. They're also a delightful surprise for excited grandparents-to-be. Imagine their faces light up with joy as they experience the magic of their grandchild's heartbeat. Take advantage of this extraordinary opportunity to bring happiness and love into their lives.
A Cherished Keepsake for Your Pregnancy Memories
Hearing your baby's precious heartbeat captured in a cuddly, lovable bear is like capturing time in a bottle. This remarkable keepsake will bring tears of joy to your eyes every time you hold it close, reminding you of the incredible journey you and your baby are on together. Cherish these extraordinary memories forever with a Heartbeat Bear®.
A Special Souvenir for Your Child
This remarkable souvenir captures the precious sound of the heartbeat recorded while still nestled in mommy's tummy. It's a treasure that will be cherished for years to come, serving as a constant reminder of the incredible bond between mother and child.
Baby's Heartbeats Recorded Early in Pregnancy
We start capturing these heartwarming sounds as early as nine weeks into your pregnancy. It's an opportunity to connect with your baby in a way that words cannot express.
From as early as nine weeks into your pregnancy, we capture the most heartwarming sounds that will leave you speechless. These precious moments allow you to connect with your little one in a way that words cannot express.
Baby's Heartbeat Recording for Loved Ones and Families
Experience the magic of capturing more than just your baby's heartbeat. Our cutting-edge 3D ultrasound technology lets us record the heartbeats of those who mean the most to you. Whether it's your children or even yourself, create personalized keepsakes that are truly one-of-a-kind.
Perfect Gift to Remember Your Special Pregnancy Moments
UC BABY® Heartbeat Bears® are thoughtful gifts that go beyond the ordinary. Whether it's for grandparents, siblings, or baby shower guests, giving a Heartbeat Bear® to anyone is an expression of love that will find a cherished place in their hearts.
These bears are not just keepsakes but treasures that will be adored and held close forever. At UC BABY®, we're here to help you create lasting memories of your pregnancy journey, and our Heartbeat Bears® are a beautiful way to do that.
Heartbeat Bears® Pricing
$35

With ultrasound session (heartbeats included)

$45

Heartbeat Bear® kit with no recording

$75

Heartbeat Bear® kit and heartbeat recording without any other service