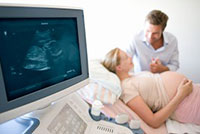 Since opening its doors in 2007 UC Baby® Moncton has served thousands of families. We created special memories with our unique service.
To make your special time even more memorable, we provide you CDs, DVDs, USBs and Heartbeat Bears® to take home. You will be able to share these special keepsakes with your baby in the future.
Our 4D ultrasound technology records your baby's activities in real time. Watching those ultrasound videos with your loved ones is one of a kind experience you will never forget.