Visit the Best 3D Ultrasound Center in Sydney, Nova Scotia
3D ULTRASOUND SYDNEY | HD 5D ULTRASOUND | BABY'S GENDER REVEAL | SNEAK PEEK | HEARTBEAT RECORDING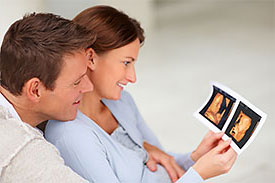 Experience the joy of pregnancy like never before at our state-of-the-art UC Baby® 3D Ultrasound Sydney center. We understand this pregnancy is a magical time in your life. And we want to ensure that every moment is truly extraordinary.
As soon as you step into our clinic, you'll be greeted with a warm and inviting atmosphere designed with your comfort in mind. We know that feeling at ease during your ultrasound session is crucial, so we've meticulously crafted a space where you can feel completely at home.
Experience our HD 5D Ultrasound
But it's not just about the ambiance – it's also about the technology. At UC Baby®, we're committed to utilizing cutting-edge equipment to capture unbelievable images of your baby in the womb. Our new and advanced HD 5D ultrasound technology provides unparalleled clarity, allowing you to see every precious detail of your little one before they even enter the world. The images look amazing, very real, and life-like.
We take pride in maintaining the highest standards when it comes to prenatal imaging, which is why expectant mothers in Cape Breton choose us as their number one choice for ultrasounds. When you choose UC Baby®, you're choosing excellent service standards from start to finish.
Located conveniently at 45 Weatherbee Road, Suite 404, Mira Road, NS B1M0A1, our clinic is easily accessible for all mothers-to-be in Sydney. No matter where you are on your pregnancy journey, we invite you to join us for this incredible experience.
But don't wait too long – appointments fill up quickly! Make sure to book today and secure your spot for a truly unforgettable ultrasound experience. Your journey into parenthood deserves nothing less than perfection – choose UC Baby® for the ultimate 3D ultrasound/ HD 5D ultrasound pregnancy experience.
*USB and photos can only be purchased with a 3D ultrasound session.


Ultimate Package (Gender + Silver)
$225
20 minute ultrasound session (no gender det.)
$149
30 minute ultrasound session (no gender det.)
$175
Baby's Gender Reveal (5-10 mins.)
$125
Sneak Peek (12-16 weeks, 2D scan)
$99
3D Pictures/Video on USB (purchase w/ 3D Package)
$30
Printed 4×6 photo (purchase w/ 3D Package)
$10
Video on Demand (w/purchase of USB)
FREE 
Heartbeat Bear (with ultrasound session)
$35
Heartbeat Bear (with no recording)
$45
Heartbeat Bear (without ultrasound session)
$75
Heartbeat Recording Session
$85