Visit the Best 3D Ultrasound Center in Sydney, Nova Scotia
3D ULTRASOUND | 4D ULTRASOUND | BABY'S GENDER REVEAL | HEARTBEAT RECORDING
We moved to a NEW Location: 45 Weatherbee Road, Suite 404,Mira Road, NS B1M0A1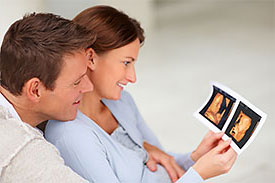 Experience the Best elective pregnancy service at our UC Baby® 3D Ultrasound Sydney centre.
Everything at our UC Baby® 3D ultrasound clinic in Sydney is simply designed for mother's comfort and relaxation. We follow the best standards at our clinic when it comes to creating incredible images of your baby in the womb.
You and you baby deserve the very best at your magical pregnancy and the UC Baby®  3D ultrasound center in Sydney can add incredible experience to your pregnancy. UC Baby® is the number one choice for expectant mothers looking for high-quality ultrasounds in Cape Breton.
We are accessible and conveniently located at 45 Weatherbee Road, Suite 404, Mira Road, NS B1M0A1
*USB and photos can only be purchased with a 3D ultrasound session.


Ultimate Package (Gender + Silver)
$199
20 minute ultrasound session (no gender det.)
$135
30 minute ultrasound session (no gender det.)
$150
Baby's Gender Reveal (5-10 mins.)
$99
Sneak Peek (12-16 weeks, 2D scan)
$79
3D Pictures/Video on USB (purchase w/ 3D Package)
$30
Printed 4×6 photo (purchase w/ 3D Package)
$5
Video on Demand (w/purchase of USB)
FREE 
Heartbeat Bear (with ultrasound session)
$35
Heartbeat Bear (with no recording)
$45
Heartbeat Bear (without ultrasound session)
$65
Heartbeat Waveform Recording
$45