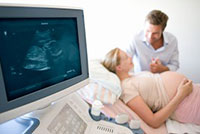 We know pregnancy is very special stage in any woman and her family's life. Our 3D ultrasound service offers exceptional bonding experience with the baby.
With all our systems, procedures and techniques designed and supervised by Dr. Tina Ureten, the leading expert of elective 3D ultrasounds in Canada, we provide you the best ultrasound services. Dr. Ureten is a medical doctor with 25 years of experience in medical imaging and supervises our practice and regularly provides training to our ultrasound technicians so that we can always stay up to date about the best practices.
With our friendly and experienced staff and the use of best practices, UC Baby® is recognized as the number one 3D ultrasound center in Ottawa, Gatineau, Nepean and Kinston, Cornwall and surrounding area.