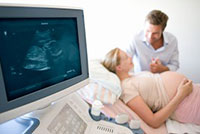 If you are wondering what makes us the best 3D ultrasound center in Toronto, our staff should be regarded for the credit. We have a team of excellent medical professionals working at our downtown ultrasound clinic. Our ultrasound technicians are certified and have extensive experience in 3D ultrasounds and pregnancy.
UC Baby®'s founder and president Dr. Tina Ureten, the expert in elective 3D ultrasounds with over 25 years of experience, provides ongoing training to our technicians to follow the latest ultrasound technologies. Our scans are also regularly reviewed by Dr. Ureten to ensure that our standards are up to par.
Offering High Tech 4D Baby Ultrasound Service in Toronto
We take the experience even further for you with our high quality 3D and 4D ultrasounds. 4D ultrasound provides a real time viewing of your baby's activities on the screen. We may capture a smile or a kick of your baby in the womb and make recordings on them.