3D Ultrasound Moncton –Visit UC Baby® -The Best Choice of Families in NB
3D ULTRASOUND | 4D ULTRASOUND | BABY GENDER DETERMINATION | HEARTBEAT RECORDING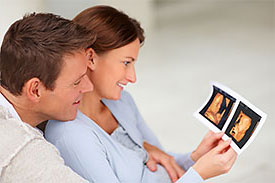 We offer you a personalized 3D Ultrasound experience at UC Baby
®
Moncton in New Brunswick.
We strive to serve you with the amazing experience, combining best practices, advanced technologies and the hard work of a professional team. Our ultrasound technician in Moncton has a combined experience of over 35 years in prenatal care and ultrasound field.
Having served more than 200,000 mothers-to-be in Canada, UC Baby®  is a leader in 3D ultrasounds for pregnant moms and their families. UC Baby®'s 3D Ultrasound service is recommended and supported by many health care providers in Moncton, Dieppe, Fredericton, Saint John, Edmunston, Miramichi and Bathurst.
We are accessible and conveniently located at 140 Champlain St #102, Dieppe, NB E1A 1N8
3D/4D ultrasound session
Gender determination, upon request
Watching baby's activities
Listen to baby's heartbeats
Face and body scan
CD, DVD or USB of baby's images (2D & 3D)
Printed 4 x 6 photo
FREE Live Broadcasting
FREE Repeat session, if gender or face is hidden
FREE Video-on-Demand
SILVER PACKAGE Capture, enjoy and share this unique, real-time experience of the baby growing inside you.

30 minute scan
CD with images
2 printed photos
For Gender and/or Face
with purchase of DVD/USB
*CD, DVD/USB and photos can only be purchased with a 3D ultrasound session.


20 minute ultrasound session (no gender det.)
$135
30 minute ultrasound session (no gender det.)
$150
Gender Determination (5-10 mins.)
$99
Listening to baby's heartbeat
$45
3D Pictures / Video on USB
$30
DVD with ultrasound session's recording
$25
Video on Demand (1 month w/purchase of DVD or USB)
FREE
Video on Demand for 1 month
$10
Heartbeat Bear (with ultrasound session)
$30
Heartbeat Bear (with no recording)
$40
Heartbeat Bear (without ultrasound session)
$60