3D Ultrasound Technology at UC Baby® Barrie Center brings you the Memorable Experience for Families
3D ULTRASOUND | 4D ULTRASOUND | BABY'S GENDER REVEAL | HEARTBEAT RECORDING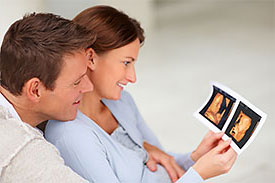 With our state-of-the-art ultrasound service you can cherish the miracle of pregnancy with your loved ones. The special bonding experience with the baby starts right there when you see your baby first time in realistic images!
Our friendly ultrasound technicians at Barrie clinic has extensive experience in dealing with baby and pregnancy ultrasounds. Our high standards and expert team of professionals make UC Baby® Barrie the first choice of medical professional and parents for obstetric 3D ultrasounds.
We are accessible and conveniently located at 15 Cedar Pointe Drive, Barrie, ON L4N5R7
3D/4D ultrasound session
Gender Reveal, upon request
Watching baby's activities
Listen to baby's heartbeats
Face and body scan
3D Images in a secure client online account
Printed 4 x 6 photo
FREE Live Broadcasting
FREE Repeat session
FREE Video-on-Demand
SILVER PACKAGE Capture, enjoy and share this unique, real-time experience of the baby growing inside you.

30 minute scan
2 printed photos
If Gender cannot be determined and/or Face is hidden at the initial session.
with purchase of  USB
p>*USB and photos can only be purchased with a 3D ultrasound session.


Ultimate Package (Gender + Silver)
$199
20 minute ultrasound session (no gender det.)
$135
30 minute ultrasound session (no gender det.)
$150
Baby's Gender Reveal (5-10 mins.)
$99
Sneak Peek (12-16 weeks, 2D scan)
$79
3D Pictures/Video on USB (purchase w/ 3D Package)
$30
Printed 4×6 photo (purchase w/ 3D Package)
$5
Video on Demand ( w/purchase of USB)
FREE
Heartbeat Bear (with ultrasound session)
$35
Heartbeat Bear (with no recording)
$45
Heartbeat Bear (without ultrasound session)
$65
Heartbeat Waveform Recording
$45