3D Ultrasound Halifax, Nova Scotia – Experience an Amazing Service like No Other at UC Baby®
3D ULTRASOUND | HD ULTRASOUND | BABY'S GENDER REVEAL | HEARTBEAT RECORDING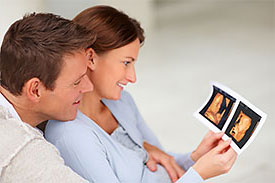 UC Baby® 3D Ultrasound Halifax offers amazing bonding experience with using advanced high definition  Ultrasound technology in addition to 3D and 4D Ultrasound.  Our HD ultrasound images of the baby can be amazingly clear and realistic. This new technology is added to our service to bring you the best ultrasound service and the experience.
Our service brings unforgettable memories to expectant families in Nova Scotia. Our friendly staff and personalized service are chosen by many pregnant moms since 2006. Clients and their families can get unique keepsakes with our high quality images, videos, and Heartbeat Bears®.
To provide you an even more amazing and realistic experience, we offer FREE  Live Broadcasting  services at UC Baby® Ultrasound in Halifax. We offer FREE online account with UC Baby pictures which makes it easier to share with your family and friends.
3D / 4D  and HD ultrasounds provide you a real-time experience with your unborn baby that you can remember for a long time. So if you are looking high quality 3D ultrasound experience in Halifax during your pregnancy, UC Baby® 3D ultrasound clinic should be your choice.
We are accessible and conveniently located at 1496 Bedford Hwy #301, Bedford, NS B4A 1E5
3D/4D ultrasound session
Gender Reveal, upon request
Watching baby's activities
Listen to baby's heartbeats
Face and body scan
3D Images in a secure client online account
Printed 4 x 6 photo
FREE Live Broadcasting
FREE Repeat session
FREE Video-on-Demand
SILVER PACKAGE Capture, enjoy and share this unique, real-time experience of the baby growing inside you.

30 minute scan
2 printed photos
If Gender cannot be determined and/or Face is hidden at the initial session.
with purchase of USB
*USB and photos can only be purchased with a 3D ultrasound session.


Ultimate Package (Gender + Silver)
$199
20 minute ultrasound session (no gender det.)
$135
30 minute ultrasound session (no gender det.)
$150
Baby's Gender Reveal (5-10 mins.)
$99
Sneak Peek (12-16 weeks, 2D scan)
$79
3D Pictures/Video on USB (purchase w/ 3D Package)
$30
Printed 4×6 photo (purchase w/ 3D Package)
$5
Video on Demand (w/purchase of DVD or USB)
FREE
Heartbeat Bear (with ultrasound session)
$35
Heartbeat Bear (with no recording)
$45
Heartbeat Bear (without ultrasound session)
$75
Position of baby near term
$50
Heartbeat Recording Session
$65