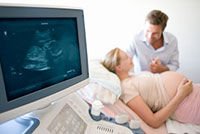 Life is all about experiences and having a baby definitely tops the list of important life experiences. During this wonderful time of your life, you deserve only the very best in life and that is what we promise you at UC Baby® 3D ultrasound clinic  in Burnaby - Vancouver.
Our practices, systems and techniques are all designed with using high standards to ensure that our service is extraordinary and better than any other 3D ultrasound site  in Burnaby - Vancouver.

With 25 years of experience in ultrasounds, UC Baby®'s founder Dr. Tina Ureten provides initial and ongoing training to our technical staff on advanced 3D ultrasounds. UC Baby® is a well-known name throughout Canada for high quality elective 3D ultrasounds. In Burnaby - Vancouver, we are definitely the first choice of 3D ultrasound among medical professionals and pregnant moms.  Our personable service and friendly staff bring you the joyful experience for your pregnancy.