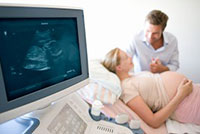 With all our systems, procedures and techniques designed and supervised by Dr. Tina Ureten, the leading expert of elective 3D ultrasounds in Canada. She is recognized across Canada as the leading authority in elective 3D ultrasounds. She has more than 25 years of experience in the medical imaging and especially in obstetric ultrasound. Moreover, our friendly and professional ultrasound technicians will go above and beyond to make your 3D Ultrasound experience an unforgettable one.
Our goal is to provide you the best service at our 4D baby ultrasound center in Sudbury and our efforts have been recognized by many medical professionals and maternity caregivers in the Northern Ontario.
Our Gender reveal scans starts from 16 weeks of pregnancy; but the face pictures don't show enough details at this stage. You may get whole body pictures and watch amazing movements of the baby in the womb between 16 to 20 weeks. For the 3D ultrasound pictures of the face, the preferred time is between 24 to 32 weeks of pregnancy. You may choose to come twice, once for gender reveal and later on for the 3D Ultrasound face pictures and take advantage of our deducted price for 2 ultrasound sessions.