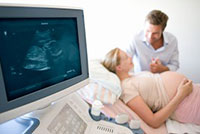 Our clinic is the first in its kind in Regina, Saskatchewan. Our experienced ultrasound technician provides you highest quality service with the supervision of Dr. Tina Ureten who has more than 25 years of experience in Ultrasound imaging.
UC Baby® Regina is recognized to be the number one choice of pregnant mothers and medical practitioners for obstetric 3D ultrasounds.
Our Regina clinic extends its service to families from Moose Jaw, Swift Current, and even Medicine Hat.