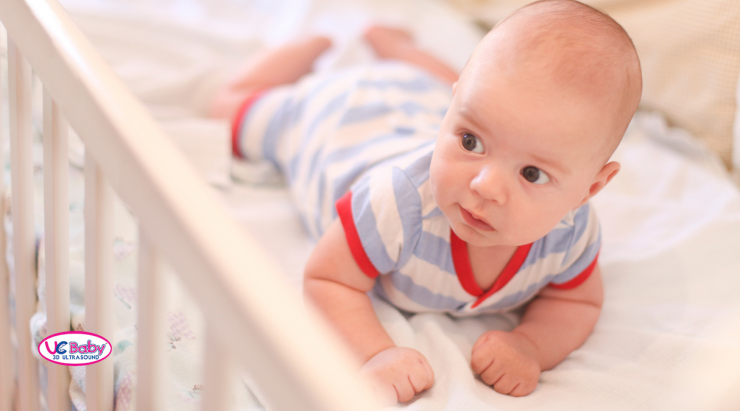 Are you aware of the standards for crib safety? Strictly following the safety guidelines for baby cribs can prevent accidents and injuries. Canadian Consumer Product Safety Act (CCPSA) bans using any crib made before 1986.

If you use hand-over-crib you need to check when it was made. Any crib made before September 1986 should not be used. Selling those cribs is against the law. It is also very important not to modify any broken or missing pieces of the cribs.
Prevent Injuries in the Cribs
Use firm mattress not thicker than 15 cm.
Use right size mattresses, there shouldn't be more than 3cm in the space between the mattress and crib. Remove plastic covers, labels, and price tickets from the mattress.
Keep cribs away from windows, doors, drapes, and blinds.
Use a fitted bottom sheet for a crib mattress, don't use loose sheets.
Don't leave any toys, or mobiles in the crib.
Don't use bumper pads or other products that attach to crib slats or sides.
Always latch and lock the sides of this crib when the baby is in it.
The most common crib accidents are falls from the crib. You should adjust the level of mattress level as the baby grows.
Don't use a crib when baby's height reaches 90 cm or the baby starts climbing out of the crib.
Keep loose items such as blankets, pillows, clothes out of the crib. Dress your baby in sleepers instead of using blankets
Check the crib's parts often to make sure it is securely fastened and not damaged. Do not substitute the parts.
Safety Standards for Cribs
Cribs made before September 1986 don't meet current safety regulations and should not be used. As of December 29, 2016, the sale, importation, manufacture, or advertisement of traditional drop-side cribs is prohibited. When buying a crib, cradle, or bassinet, look for a product label (model name or number) and instructions on proper use, the date of manufacturing. The crib should be fit for the following standards;
Less than 6 cm (2.4 in.) of space between slats –  This prevents a child's head from becoming trapped.
Smooth Finish – The material should be smoothly finished to eliminate sharp edges, corners, and points and must be free from splits, cracks, and other defects.
Design Safety – No cutout designs or spaces if there is an otherwise solid headboard or footboard. A child's head, hands, arms, or legs can get stuck.
No corner posts – Clothing can attach to these posts and injure or strangle a child.
Check loose parts – Tight and secure screws, bolts, and other construction materials. Check these parts every week. A physically active child can loosen these structures, and the crib can collapse.
Lead-free paint – Older cribs may have paint that is lead-based. Babies can get lead poisoning from chewing and gnawing on a crib with lead-based paint.
Movable side rails are a safety hazard –  If your crib has the kind of side rail that can be raised and lowered, always raise it and secure it properly when your child is in the crib.
Safe use
Always follow the manufacturer's instructions when using a crib, cradle, or bassinet and do not modify it. You should check that the item is solid and that screws and bolts are tight. This should be done frequently.
Place your crib, cradle, or bassinet away from:
lamps
curtains
windows
patio doors
blind cords
electrical plugs
extension cords
electrical cords, such as those found on night lamps or baby monitors
When your baby can sit upright or push up on his hands and knees, you should:
take away mobiles and toy bars
move the crib mattress support to its lowest level
To avoid the risk of suffocation, you should never:
harness or tie your baby to the crib, cradle, or bassinet
use pillows, comforters, stuffed toys, or bumper pads in the crib, cradle, or bassinet
leave your baby in the crib, cradle, or bassinet with:

a necklace
an elastic band
a scarf
a pacifier on a long cord
Written by: Tina I Ureten MD, RDMS, RDCS