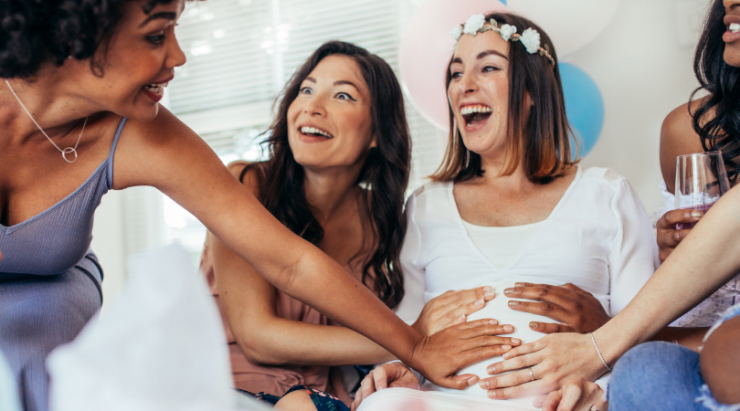 Are you expecting a baby, or do you know someone who is? If so, chances are you'll be involved in planning or attending a baby shower.
It's an exciting time to celebrate the upcoming arrival of a little bundle of joy! But as the event approaches, you may wonder about a few common baby shower questions.
5 Common Baby Shower Questions
1. Who should take charge of hosting the baby shower?
The great thing about baby showers is that anyone can host them! Whether it's family members, close friends, or even work colleagues, anyone who wants to show their support for the soon-to-be mom can take on the role of hosting. In most cases, the closest friends and family members usually step up to arrange all the details and ensure everything goes smoothly.
2. What are some popular and practical baby shower gifts?
When it comes to picking out presents for this momentous occasion, there's an abundance of great options just waiting to be discovered. From essential items like strollers, diapers, diaper bags, car seats, and baby monitors to adorable clothing items like sleepers, onesies, bibs, and socks – you can't go wrong! And let's not forget about delightful baby toys and other thoughtful gifts that make life easier for new parents. With such an array of choices available, finding the perfect gift is as easy as ABC!
Strollers and stroller accessories: A reliable stroller is essential for any parent on the go.
Diapers and wipes: Every new parent knows that diapers are necessary.
Diaper bags: Stylish yet functional bags to hold all those diapering essentials.
Diaper pails: Keeping dirty diapers out of sight and smell is always appreciated.
Car seats: Safety first! A quality car seat ensures the little one travels securely.
Baby monitors: Peace of mind for parents when they're not in the same room as their baby.
Baby carriers: Perfect for keeping hands free while bonding with the child.
Bottles and accessories (warmers and sterilizers): Feeding essentials for babies.
Clothing like sleepers, onesies, bibs, and socks: Adorable outfits to keep them comfortable and stylish.
Baby toys: Rattles, plush toys, and interactive toys to stimulate their senses.
Larger size baby clothes: Having some future-sized outfits is always good.
Teether and clip-on: Soothing teething toys for when those little teeth start coming in.
Touch and feel books: Early introduction to the joy of reading with sensory experiences.
Transition cups: As the baby grows, they'll need cups suitable for different stages.
Bouncer chairs: Comfortable seating options with soothing vibrations for a happy baby.
UC Baby Gift Certificates: For a unique and memorable experience
And if you want to give an extraordinary gift that will create treasured memories for the mom-to-be, why not consider our UC Baby 3D ultrasound packages? It's an unforgettable experience that will leave her speechless! Explore our gift card options by clicking here – we have just what you need to surprise your loved one. Various denominations fit any budget.
3. When should the baby shower take place?
The timing of a baby shower can vary depending on cultural traditions and personal preferences. In most cases, it is common practice to schedule the event one or two months before the baby's expected arrival. However, in other cultures, baby showers are planned after the baby is born as more of a celebration for safe and healthy delivery. Ultimately, deciding what works best for you or your loved one is up to you.
4. Is it necessary to play games at a baby shower?
Playing games at a baby shower is not required or expected but can add fun and entertainment to the gathering. While traditional games like guessing the size of the mom's belly or matching celebrity parents' names with their babies are still popular choices, modern baby showers often focus on sentimental activities that make the mom-to-be feel cherished and supported. From guests bringing "significant" gifts accompanied by heartfelt notes for the baby to create lasting memories for mother and child, there are countless ways to make this event truly special.
5. How much should invitees spend on a gift?
There is no set standard for how much you should spend on a baby shower gift. The amount will depend on your financial situation and your relationship with the mom-to-be. If you're on a tight budget, don't worry! There are still plenty of options to show your love and support.
Consider joining forces with friends or family members to contribute to a group gift or look for items that fit within your price range. Additionally, many parents create a baby registry that includes items of all prices, from small and inexpensive things like baby socks to big-ticket items like strollers. This way, guests can choose something they feel comfortable spending on while offering something meaningful.
Remember, every baby shower is different, so it's important to go with what feels suitable for you and the expectant mom. Whether it's hosting, attending, or finding the perfect gift – let love guide your choices during this joyous celebration of new life!
References:
Our Favorite Baby Shower Ideas
Written by: Donna Costa