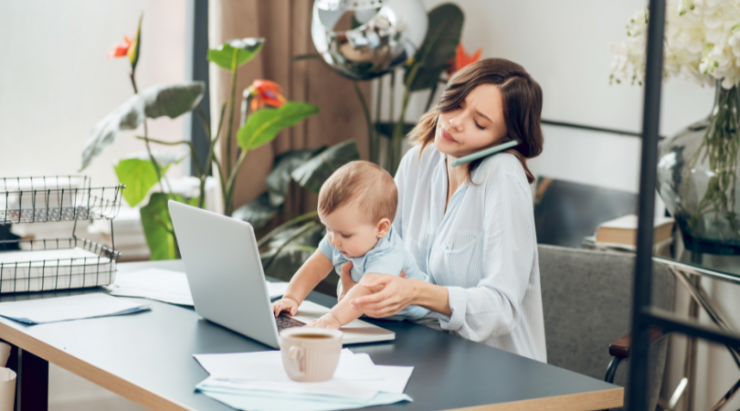 Choosing to be a stay-at-home mom is an attractive alternative for many mothers. After all, who wouldn't want to spend more time with their babies and kids?  The thought of being there for every milestone, witnessing all the firsts, and creating precious memories is undeniably appealing.
However, as enticing as it may sound, many mothers face the trade-offs of "not working to earn a living" and how that could potentially impact their family's financial situation. Additionally, there's also the consideration of giving up the work environment they were once accustomed to. What is the alternative?
But does it really have to be a choice between "work" and being a stay-at-home mom?
Fortunately, numerous women have successfully found that perfect balance where they can derive satisfaction from making themselves productive with their professional skills while having ample time available for their families.
And this magical combination is nothing but being a Work-at-Home Mom or WAHM!
Benefits of Being a Work-At-Home-Mom – WAHM
Being a WAHM (work-at-home-mom) opens up new doors of opportunity and brings forth many benefits. One such advantage is unparalleled flexibility when it comes to managing your time. You are no longer confined by rigid office hours or demanding commutes, but you can structure your work schedule around your family's needs. Whether it's early mornings or late afternoons, you can determine what part of the day suits you best for accomplishing tasks without compromising on quality family time.
Moreover, being a WAHM (work-at-home-mom)  grants you an enviable work-and-life balance – something often elusive in traditional work settings. You no longer have to sacrifice one aspect for another. Instead, you can seamlessly integrate both realms into your daily life. Gone are the days when you had to choose between career advancement and nurturing your little ones. Now you get the best of both worlds.
As an added benefit, pursuing a WAHM (work-at-home-mom)  lifestyle provides immense personal fulfillment and boosts your sense of productivity. You no longer need to wonder if you're missing out on your child's milestones or feeling unfulfilled in your professional life. By harnessing your skills and expertise, you can engage in meaningful work contributing to your personal growth while still being there for your children.
While the opportunities for WAHMs are abundant, it's crucial to consider a few factors before embarking on this journey.
Factors to Consider in Being a Work-At-Home Mom
1. Available Time
Evaluate how much time you can spare for work while caring for your family's needs. Determine the number of hours per day that you can dedicate to accomplishing tasks and identify which part of the day aligns best with your energy levels.
How many hours can you spare each day?
Are mornings or afternoons better for you?
2. Skills and Experience
Take stock of your skills and evaluate whether they are transferable or useful for at-home work. Consider whether enhancing these skills would be beneficial or if acquiring new ones is necessary for pursuing specific home-based business ventures.
What skills do you already possess?
Do they align with at-home work opportunities?
If not, how can you enhance them?
How about starting a small business venture from home?
3. Attitude and Motivation
Assess whether you have the right attitude that calls for balancing multiple responsibilities simultaneously while remaining focused and determined. Reflect on your motivation and drive to make this transition successful and your ability to be disciplined and self-motivated without external supervision.
Are you prepared to handle both responsibilities?
Can you motivate yourself without supervision?
Embracing the Change and Opportunity to Become a Work-At-Home-Mom
If, after careful consideration, you believe that becoming a WAHM would bring joy and fulfillment into both aspects of your life, don't hesitate to embrace this opportunity wholeheartedly. You can explore the various options available within your industry and find inspiration from other moms who have successfully adopted the WAHM lifestyle. Their valuable suggestions and unwavering support will prove invaluable as you navigate this new territory.
Transitioning to being a WAHM (work-at-home mom), juggling work responsibilities and, at the same time, doing your best to raise a child can be undeniably challenging. But the rewards of witnessing your child grow while experiencing personal growth yourself are immeasurable.
So, if you're ready to embark on this exciting journey and enjoy the best of both worlds, take that leap of faith. Embrace the WAHM (work-at-home mom)  lifestyle with open arms and cherish the precious moments you'll create with your family while carving out a fulfilling professional path for yourself.
References:
25 Best Part-Time Jobs for Parents, According to Real Moms
Remote Work's Positive Impact on Moms
Written by: Donna Costa