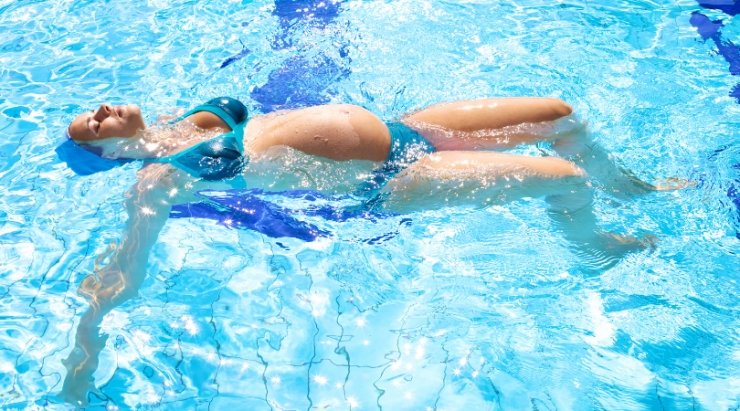 Swimming during pregnancy is marked as one of the safest forms of exercise by many experts, but you should always have some precautions in mind during any kind of water activity.
Due to water's ability to lift against gravity on your extra weight, swimming can be practiced as a good exercise option for expectant mothers, especially after the first trimester. Swimming is a low-impact exercise that builds strength and aerobic capacity.
The pressure on the spine and pelvic bones from pregnancy can be eased by swimming, and it prepares the body for the birth process. Along with increasing muscle tone and improving circulation, swimming also helps if the mother suffers from nausea and vomiting.
It also eliminates the feeling of overheating by pregnancy hormones and keeps your body hydrated.
Postpartum Swimming:
Swimming is also a very beneficial postnatal exercise to shed your extra pounds and stay healthy.
If you are breastfeeding, you should be careful in the chlorinated pools. You may also take the baby with you swimming but never try to feed your baby while you both are in the water.
Don't swim with engorged breasts. Feeding the baby before going to swim makes you feel better in the water.
Make sure the water is clean and safe. Never swim if you feel dizzy, tired, or stressed out.
You should consider wearing a swimsuit with padded bras in case of leakage.
Safety Tips for Pregnant Swimmers:
Ocean, lake, or pool, whichever you choose, make sure the water is clean and free of toxic products.
Don't go swimming alone. Pregnancy can cause heavy cramps during swimming, and someone must be around you if you need help.
Start swimming by warming up your body first. Diving into deep water and holding your breath under the water is not recommended.
Use a comfortable maternity swimsuit so you'd feel more comfortable with your expanded belly.
If you have high blood pressure, heart, or lung disease, consult your doctor before swimming.
You shouldn't be swimming if you have bleeding, cervical insufficiency, ruptured membranes, or preterm labour.
Be Aware of the Risks of Swimming while Pregnant:
When swimming, it's important to only swim in areas you know to be safe. You may tire more quickly than when you are not pregnant, so be mindful if swimming far from a shore or beach. Consider tides, whether the water is rough, and any reports of bacteria in the water before going for a swim.
Swimming, or any form of exercise during (or after) pregnancy, should be performed with caution and consideration for what your body is capable of handling. Listen to your body and do not push it further than what it can handle at any particular moment.
Swimming, if performed as a regular exercise, provides many benefits for maintaining good health and body function. Find the level of exercise that is best for you and your baby.
REFERENCES:
What You Should Know About Swimming During Pregnancy
Written by: Melissa Ureten
Check out our blog  – 35 Crazy Facts You Didn't Know About Pregnancy