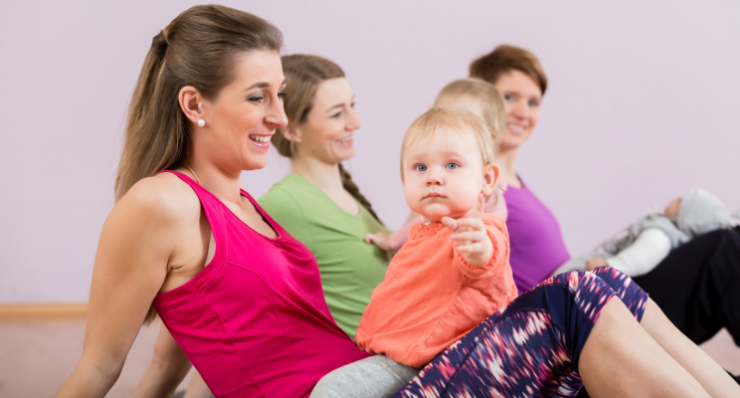 After pregnancy, the body needs to restore balance. Postnatal yoga is a low-intensity yoga practice designed to help you get back in shape physically and support you emotionally. Postnatal yoga concentrates on strengthening the abdominal muscles, which were overstretched during pregnancy.
First, you need at least six weeks to naturally regain your body's strength, relaxation, and confidence. Postnatal yoga is perfect for nurturing your body after delivery. You can do this as early as six weeks after delivery.
Postnatal Yoga classes teach proper posture, breathing techniques, and meditation offer a practice that supports healing, relaxation, and toning. Exercises include gentle twists, which help shrink the uterus. It uses specific activities designed to get your pelvic floor and abdominal muscles back in shape again.
Postnatal Yoga Benefits for Mom
Relaxed muscle tension
Relaxation through meditation
Increased calmness
Decreased anxiety and depression
Reduced irritability or anger
Increased energy
Lower blood pressure
Alleviate symptoms of postpartum depression
Moms aren't the only ones who can benefit from yoga. A few basic moves for the wee-one can make your infant comfortable and calm. The many practices of baby yoga provide courses to handle babies in ways that are good for them at every stage of their development.
Postnatal Yoga Benefits for Baby
Bonding with mom
Playtime
Massage and touch
Baby yoga can keep baby content between feeds and helps alleviate gas and colic. Joint relaxation is mutually beneficial for moms and babies and enhances non-verbal communication between them. Early birth trauma can be resolved and healed through this loving interaction.
5 Yoga Poses to Add to Your Postpartum Yoga Practice
1.Child's Pose
This gentle pose alleviates head, neck and chest pain and opens the pelvic floor, hips and lower back.
2.Legs up the wall
This meditative pose helps bring blood flow in the opposite direction.
3. Mountain Pose
This pose tones and stimulates the abdomen, pelvis, torso and back.
4. Bridge Pose
This pose is excellent for relieving thoracic spine discomfort, strengthening the legs while stretching the hip flexors, and opening the shoulders and chest.
5. Cow Face Pose
This pose is great for stretching the hips as well as the neck and shoulders.
Don't forget to take deep inhales and exhales while practicing postnatal yoga!
*Consult your doctor if you have any concerns about your readiness to engage in any physical activity.
REFERENCES:
6 Benefits of Mum and Baby Postnatal Yoga
6 Postpartum Yoga Poses for New Moms
Written by: Melissa Ureten
Check out our blog  – 6 Steps for your Baby Proofing List