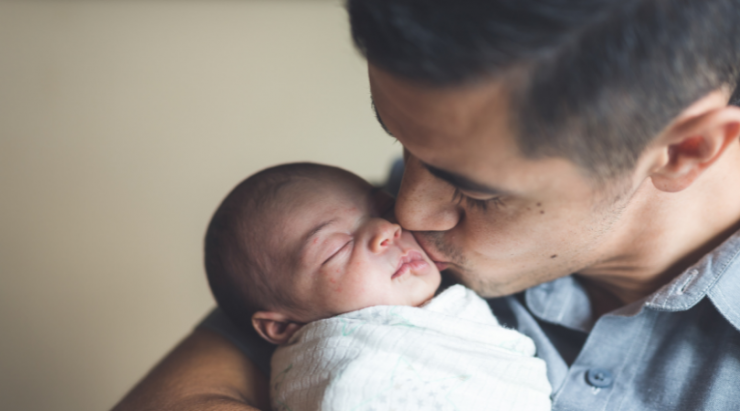 People say that becoming a father would change you and teach you some of your most important life lessons. It would change your lifestyle. (Oh no! What would happen now to my drinking sessions every Friday night?)
It would change your outlook on life. (Would it make me more 'mature'? Yes! Finally!)
It would change your priorities (Would it make me spend less on Big Boy Toys like cars & gadgets?)
I am both excited and nervous at the thought that I would become a 'Dad' in a few months. At first, it was a rush of excitement and elation when my wife showed me those two blue lines on the pregnancy kit.
Later on, it dawned on me what those two lines would mean for me for the rest of my life. I suddenly felt nervous about what I don't know how to do (What does a dad do, anyway?)
I had not given much thought to the role my father had done all these years. I called him last night and, while stuttering, finally managed to say,
"Dad, I am going to be a DAD soon.
I could hear the excitement and joy in his voice as he congratulated me. I asked,
"Do you have any advice?"
He chuckled and said with a tone that made me feel like I was a little boy again,
"Don't let a dirty diaper stay too long on the baby. That could make or break your day!"
My mind experienced a rush of so many questions and diaper-changing scenarios.
"Change a diaper? What do I do? How do I do it?"
I turned pale at the thought.
"Remove dirty diapers. Wipe clean with (what?) baby wipes. Hold baby's legs as I wipe baby clean. Fold the dirty diaper. Throw it in a trashcan (?)…Wait! Wasn't I just holding the baby's legs? Should I put the clean diaper first? Which side should be the front or back?"
My father must have felt that I suddenly turned quiet. He said,
"Don't worry, son. Nothing can prepare you for fatherhood. Here are some of the most important things I learned during those years…"
Respond at the moment. Trust your instincts.
Common sense and genuine caring for a child's well-being go hand in hand.
You will learn the things you need to know as you go along. Just enjoy the journey.
You will learn the capacity of love one can have for another is
You will discover that you have more patience than you give yourself credit for.
Don't sweat the little things. It always gets better. And if it gets worse, just remember, tomorrow is another day.
You will learn to play again and discover the joy of unstructured leisure time with your children.
Your priorities change, and your needs come last. Consideration of your spouse's needs matters. Share the responsibilities of taking care of the baby. You will learn about compromise, communication, and fairness in raising children.
You will learn that you could worry too much and learn to manage it and not let it stop your children from growing and exploring independently.
There are worse things in life than your baby's poop on your finger/arm/body. You can always wash it off. You won't get a memorable event like that every day of your life. Enjoy it!
We asked other dads the most important lesson they have learned as a father.
Here are the lessons shared by other dads…
I have learned… what patience is and what love truly looks and feels like… the length I'll go to love and protect my daughter, and ultimately, discovering the kind of man I am because of her.
— Christopher, father of a 1 and a half-year-old toddler | Ottawa, ON
The most important lesson learned from my 10-month-old has been that no matter how overwhelming parenting can be at times, it would never be taken back.
— Daniel | Victoria, BC
As a father of three, the moments I've spent with my kids have been the most fulfilling years. I have been there to wipe my daughter's tears away and watch them succeed in their educational journey. It made me want to be the best father I can be when my children need me. Family is most important. And this new baby is making me excited to become a father for the third time.
— Farell, father of 3 kids (2002, 2009, 2016) | Winnipeg, MB
I have learned how much you care for your child more than anything in this world. I have more respect towards my dad now.

— Ridwan, soon-to-be-father  | Edmonton, AB
I am not a father yet, but I learned that the right start would lead to a bright future.
— Mohamad, soon-to-be-father  | London, ON
You are walking the path before them. Your children are following and watching. So which path do you want them to take?
— Mark, soon-to-be-father  | St. Catherines, ON
I learned…never to say NO to my wife while she's pregnant!
— Kevin, dad of one boy | Edmonton, AB
I learned how important LIFE is.
— Matthew, father of 2 kids | Edmonton, AB
You've GOT to be able to go with the flow. Game plans are good, but your life and your child's life will be much happier and healthier if you can compromise and roll with the punches. Children don't read a manual!
— Dan, expecting third child) | London, ON
I learned to…Expect the Unexpected!
— Renee, expecting second child | Innisfil, ON
I learned…There is no love stronger than the love you have for someone who is a part of you.
— Erich, soon-to-be-father  | Chilliwack, BC
Seeing how fast my girls are growing up helped me realize that we need to slow down and enjoy every minute of life as every minute is precious.
— Rob, soon-to-father | St. Catharines, ON
I learned that…things work out best for those who make the best of how things work out.
— Brett, father of two, ages 3 and 5 | Calgary, AB
I will do anything to see a smile on my child's face.
— Zeeshan, dad to a 5-year old | Calgary, AB