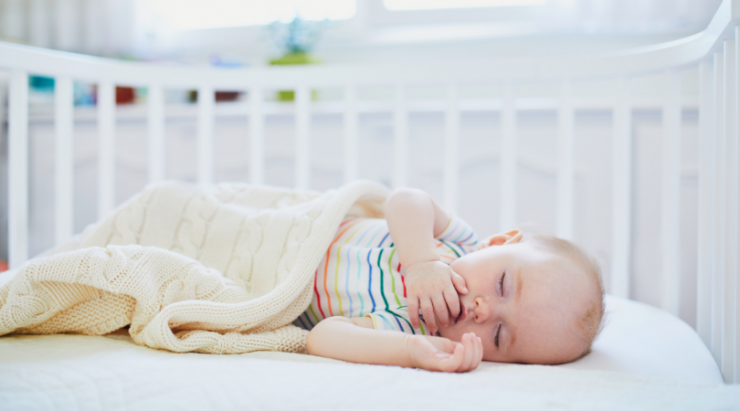 Creating a safe sleep environment for your baby will lower the risk of Sudden Infant Death Syndrome (SIDS). SIDS remains the leading cause of death of healthy babies from one month to one year old.
Most SIDS happen during sleep without any warning signs and is called "crib death." Ensuring a safe sleep environment for babies can decrease the risk significantly, not only for SIDS but also for entrapment, suffocation and strangulation.
*The safest place for your baby to sleep is in a crib, cradle or bassinet. Standard beds, water beds, air mattresses, couches, futons or armchairs are never safe for babies.
Position the baby to lie on their backs when they sleep.
Sharing the bed with a baby can be very dangerous. Health Canada does not recommend sharing your bed with the baby.
Sharing the room with the baby is recommended for the first six months of the baby's life. However, the baby should sleep in a crib, cradle, or bassinet within close accessibility to the caregiver's bed.
Use only original parts from the manufacturers when you set up cribs and never modify the recommended setup instructions. Follow the safety regulations for the cribs.
Remove any type of cord that is attached to the baby's clothing which can cause strangulation.
Use only firm mattresses without any gaps. Loose mattresses can cause suffocation.
You can put twins into the same crib with following the same safety issues as for a single baby.
Provide a smoke-free environment for the baby all the time. Smoking near the baby increases the risk of SIDS.
Never let bigger kids share the same bed with the baby.
Do NOT leave any TOYS or other items in the crib.
Don't use baby hammocks which have a higher rate of accidents.
Bumper pads and sleep positioners are classified as unsafe products by Health Canada.
Never leave pacifier/ soother with hanging cords inside the crib.
Don't use loose beddings, heavy blankets and quilts in the crib.
Wearing one-piece sleepers is better than using blankets for babies and toddlers. A baby's head can get covered by blankets and may cause suffocation.
If a blanket is needed, use a thin, light and breathable one.
It is not recommended to allow the room to get too warm. It increases the risk for SIDS. Keep the room temperature at a comfortable level.
Don't keep the sleeping baby in car seats, swings, bouncers, slings or baby carriers.
Keep baby's crib away from cords on window blinds, shades and curtains.
Baby's sleeping area should not be close to windows, patio doors, lamps, candles, electrical plugs, corded baby monitors, extension cords and small objects.
Do not leave the baby in a crib with a necklace, elastic band, scarf, or a pacifier with a long cord. These items could cause strangulation.
When visiting family and friends, check the sleeping area of the baby for any hazardous items. Supervise closely when the baby is sleeping.
A crib should not be used if the child is taller than 90 cm, or if he or she can climb out of it, whichever comes first.
Place the mattress support in its lowest position as soon as your baby can push upon his or her hands and knees.
Check regularly for recalls of children's toys, clothing, furniture and equipment by contacting the manufacturer or by visiting Health Canada's Consumer Product Recalls web page for more updated information.
Written by: Tina I Ureten MD, RDMS, RDCS