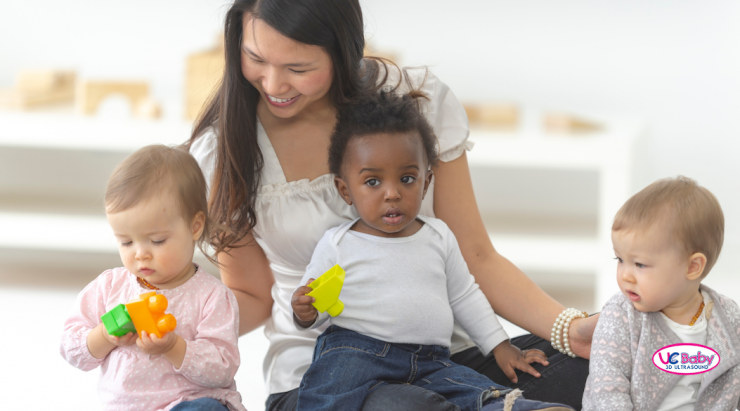 If leaving your baby in another person's care all day, every day scares you, well, you're not alone. Child care is a big family decision, especially if this is your first baby. That's why we've covered each option and its pros, cons, and costs to help make your choice a bit easier.
Keep in mind the benefits to downsides of all your choices for child care. And choose the best child care arrangements that work for your family.
Choosing the Best Child Care for Your Baby
If you're going back to work full time and considering your options for the best possible child care for your baby, here's what you need to know.
Child Care Option 1: Daycare Centers
Pros: A good daycare can offer significant advantages. Most child daycares provide continuous care from the early months of infancy to toddlerhood and sometimes even into preschool. Your baby will have the opportunity to socialize, make friends and learn from peers and caregivers. Caregivers in daycares have often completed a degree in early childhood education or a similar field. If you have a regular job with fixed hours, this is a good choice.
Cons: A group environment works great for many kids, but if your child needs more one-on-one attention to thrive, then daycare might not be the best option. If your work hours change constantly, this could also be problematic due to the consistent schedules of daycares. Another drawback can be more exposure to germs and illnesses.
Costs: Fees vary, sometimes drastically depending on where you live. The national average cost for daycare in Canada is around $10,000 annually, although some places like Toronto can set you back around $23,000 a year ($1,934 a month for an infant spot – under 18 months)
Keep in mind since rates are per child, so daycare can be extremely costly if you have more than one child.
Child Care Option 2: Family Day Care
Family daycares are similar to child day care centers, except private homes with an assistant or two depending on the number of children and space.
Pros: A welcoming home-like environment with a smaller group of kids, which results in a better student-teacher bond, being beneficial for your children's education. Home-based daycares are usually more flexible with working around your schedule. Also, having the ability to mix age groups means siblings can likely stay together.
Cons: Downside is caregivers may have less-educated teachers and less educationally enriched curriculum, and possibly more exposure to television. Sometimes family daycares can have only one sole caregiver, so trust is essential.
Costs: The costs of in-home daycares are usually a bit more reasonable than daycare facilities. The monthly fee per child ranges from $179 in cities like Quebec to $895 – $1253 for cities in Ontario.
Child Care Option 3: Nanny
A nanny is a career caregiver who cares for all the children in the household. For the very few parents who can provide a dedicated bedroom and bathroom, a live-in nanny is an option. Otherwise, hiring a live-out nanny is a better alternative for you.
Pros: Your child will receive individual attention and build a stronger relationship with the caregiver. Along with more parental control in the house, more consistent care, flexibility and convenience for parents.
Cons: With nannies come parenting style conflicts and issues with regulations. You will have to build trust and have good communication with your nanny. Also, being reliant on one person means if your nanny is feeling sick last minute, you'll need to organize backup care.
Costs: Typically, nannies are significantly more than daycare centers, especially live-in ones. Nanny fees vary depending on location, the number of kids, and other things. But it will typically cost you around $500 a week.
Child Care Option 4: Babysitters
Babysitters can be anybody who looks after the children when the parents are out.
Pros: Babysitters are usually hired for a couple of hours and care for your child in your home. This arrangement is an excellent option if you have flexible hours and only need a caregiver a couple of days a week.
Cons: In most cases, babysitters can be young teenagers looking for extra money and are not required to have any sort of skill certification or prior experience. Keep in mind if your go-to babysitter is not available, you'll have to find another.
Costs: Hourly rates can add up, but the average rate ranges from $10-20, depending on your location and your caregiver's experience.
Child Care Option 5: Family Relative Caregiver
A relative caregiver is a family member who cares for your child, either at their home or yours.
Pros: This may be the most comforting option for most mothers as you already have a trusty relationship with the caregiver.
Cons: Caring for an infant is a very demanding job. Although grandma might be your first choice, you should consider if she is still able to care for a newborn or toddler. Older parents may not remember how much work it is to care for a young child. Think about the impact this could have on your relationship with your relative. Will you be able to hash out any conflicts that arise? If not, it may not be worth it.
Costs: On the plus side, "acceptable" fees are entirely up to you and your family relative caregiver.
Additional Tips to Help Choose What's Best for You
Do your research
Interview daycare centers
Check the centers out in person
Check references and reviews
Ask questions
REFERENCES:
Pros and Cons of babysitters, nannies, and daycare
Weighing the Pros and Cons of Nannies vs. Daycares
Child Care Center vs Home Daycare: Pros & Cons
The city with the most expensive daycare in Canada is…
Day Care 101: How to Choose the Best Day Care Facility for Your Family
Hiring a babysitter? Here's how much you should pay them
Child care in Canada: Types, cost, and tips for newcomers
Written by: Melissa Ureten