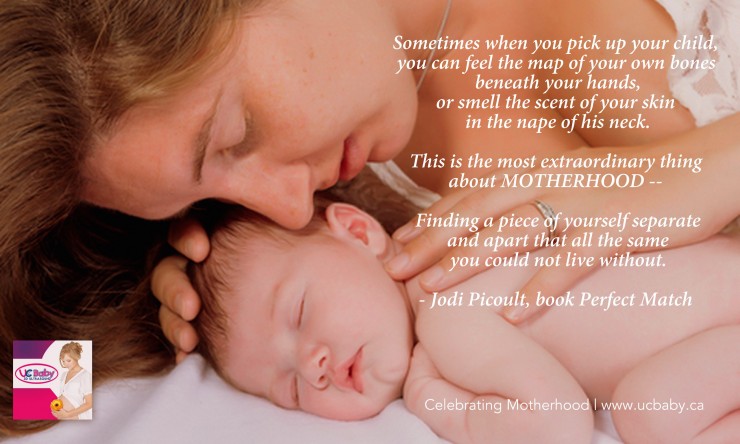 Here is a collection of inspirational motherhood and fatherhood quotes. We put this together as a celebration of parenthood and our way of saying how special you all are.

Motherhood is a constant call to be on my feet, to deal with the challenges, and to learn everything I possibly could to do it right."

I have never felt as LOVE as PURE…I have never experienced a LOVE as REWARDING…
Motherhood has taught me about living in the moment. Our children don't remember YESTERDAY. They don't plan for TOMORROW. They just exist in the MOMENT….Be with them."
"The JOY of MOTHERHOOD comes in MOMENTS…Take time to listen, to laugh, and to play together."
"It takes someone brave to be a mother, someone strong to raise a child, and someone special to love someone more than herself."
"There are times when you say to yourself 'This is impossible.'

And yet you find yourself TRYING to do it…DOING it,,,trying your BEST to do it…

Then you realize, you have just done the IMPOSSIBLE…all for the sake of your children.."
"If I could give you one thing in life, I would give you the ability to see yourself through my eyes. Only then would you realize how SPECIAL you are to me."
"My children may not have EVERYTHING they want in life.
But they have a mom who loves them with EVERYTHING she has to GIVE."
"If you could only see yourself through my eyes, and feel the emotions for you through my heart, you would understand the STRENGTH of the LOVE that created the greatest MIRACLE of my life – YOU." — D. Costa
"I am a WOMAN. I am a MOTHER.

I am not a 10. I'm not perfect. I'm not a size 0. I have stretch marks. Sometimes my house is a mess. Some days I wear pyjamas. I make mistakes. I stress. I cry. I laugh. I smile. At the end of the day, I know that I am happy with my kids. That's the best feeling in life.

That is true BEAUTY and HAPPINESS."
"Sometimes when you pick up your child you can feel the map of your own bones beneath your hands, or smell the scent of your skin in the nape of his neck. This is the most extraordinary thing about motherhood – finding a piece of yourself separate and apart that all the same you could not live without." — Jodi Picoult, book Perfect Match
"Being a parent means loving your children more than you have ever loved yourself."
"Love as powerful as your mother's love for you leaves its own mark … to have been loved so deeply .. will give us some protection forever." —J.K. Rowling
"I have loved you the best way I could..I have loved only you..that much, that way." — Mom
"A MOM's HUG lasts long after she lets go…"
"If there is ever a day tomorrow that we are not together,,,I will always be in your heart."
— Winnie the Pooh
"Real isn't how you are made. It's a thing that happens to you. When a CHILD loves you for a long, long time, not just to play with, but REALLY LOVES you, then you become Real.'
— Margery Williams, Velveteen Rabbit
"Sometimes it's the smallest things that take up the most room in your heart."
– Winnie the Pooh
How has your life schedule changed when you became a mother?
"The time I am not spending with my children has to be really worth it."
"A woman's endurance enabled your first breath."
— Unarine Ramaru
"You and I…An endless story of love. A love that grew in me for 9 months and only grows bigger each day…my whole life is YOU."
"My promise to my children….you will never find anyone else in your life who loves, prays, cares and worries about you more than I do…"
Being a good mother does not mean being perfect all the time. It is a process of growth in learning what is best for her child.