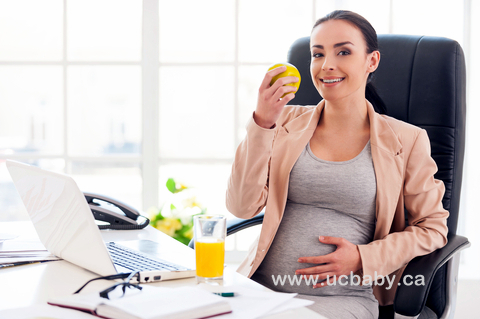 For some working women it is a quite challenging task to reveal their pregnancy to their boss. If you set up a careful plan and use a strategic way to announce it, then you will get a positive response.
Also keep in mind your boss may well be happy for you. If there is any affection for you s/he'll be absolutely thrilled for you.
Some women are scared about losing their job due to their pregnancy. Remember that the employment law protects you from that kind of action. You should learn what your rights are and how much income you should be making during your maternity leave.
Here are some tips to make it easier for both you and your employer:
1. Don't share your pregnancy news with your co-workers first. If you tell the colleagues first and then the boss finds out from them s/he might feel left out. Tell your boss at the early stage before it becomes obvious with morning sickness or growing belly. It is best to share the good news with peers at work once you've told your employer.
2. Bear in mind that it may not come as a surprise anyway. You may think you've been keeping the biggest secret, but if your employers know you had been trying to get pregnant they can guess the outcome. They might get delighted for your pregnancy.
3. Arrange a meeting with your boss at a quiet, private place to make your announcement. Try to talk to your boss when s/he is not in a rush, not in a bad mood, etc. If you need to make an appointment do so.
4. Explain your due date and share your plans with your boss at the meeting. Make an honest talk about maternity leave. Let your boss know whether you're coming back or not, after your maternity leave is over. If you don't have a long term plan, let them know and share your decisions as soon as you finalize them.
5. If your work environment would have negative impact on your pregnancy , you should discuss that with the decision makers right away. Your employer must take steps to remedy any concern you may have. If the risk can't be avoided, you should be offered suitable alternative work at the same rate of pay.
6. Remember, your employers would be mainly worried about their business and loss of production. Try to help them to relieve their stress with eliminating interruption of the work during your pregnancy.
7. If you have some thoughts about how your role might be covered, share them with your boss. You might be the best person to know which of your colleagues could cover certain aspects of your role.
8. Keep your professionalism during your pregnancy. You should try for the same job performance before you become pregnant. There might be some situations which can effect your work but don't expect the others to work for you just because you are expecting a baby.
9. Try to figure out how your job will be affected by your pregnancy and maternity leave. Let them know how long your maternity leave would be. If you decide not to come back inform them immediately. Make plans with the coordination of your employer. Help them to find the best replacement to take over. Assist them to prepare the new person for the job.
10. If your employer is a big corporation with an HR department, you can talk to them and get extra support for finding the replacement for your position. Show them you are being thoughtful and committed for the company. That policy would work in your favor in the long term.
Written by: Tina I Ureten MD, RDMS, RDCS