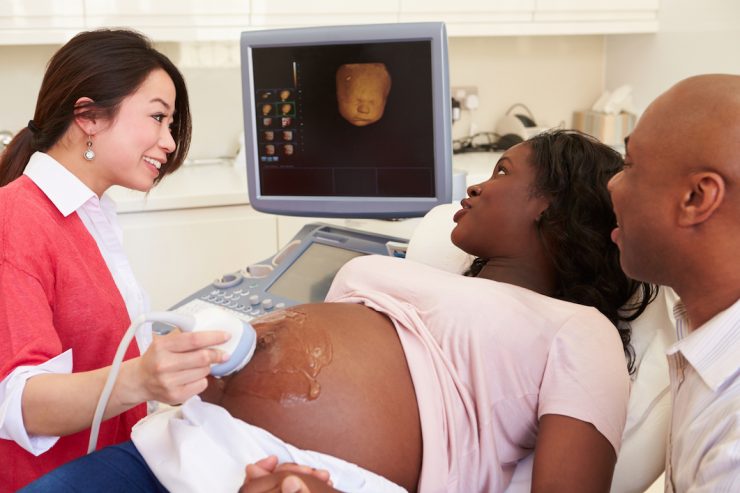 Congratulations, you are going to have a baby! Pregnancy is one of the most exciting and memorable times in your lifetime.
A new life growing day by day is nothing short of a miracle.  Now you don't have to wait 9 months to see your baby's beautiful face. Thanks to new 3D/4D/5D Ultrasound technology, moms and dads could now watch their babies' movements while still in the womb.
Although there is increased excitement to experience this service, some families express concern about the safety aspect. Let us look at some details.
A Short History
Ultrasound was first introduced for clinical diagnosis in 1942 by an Austrian psychiatrist and neurologist Karl Dussik. This technology has been successfully used on pregnant women since the early sixties. Extensive studies over 50 years have found that ultrasound has not caused any harm to mother or her unborn baby. Reassurance is provided by researchers who perform multiple prenatal ultrasounds from the early stages of pregnancy with no negative effects on the growth or development of the fetus. Frequent scanning of all pregnancies is part of routine prenatal care today and it is widely accepted. Since it is safe for both for babies and moms, there is no signed consent needed from the mother. Mothers have an average of  2 to 5 ultrasound examinations during the course of a normal pregnancy.
Diagnostic application of 3D, 4D and now 5D ultrasound is gaining wide acceptance for faster acquisition of the data. The necessary 2D images are produced from that data set. Advanced 3D/ 4D/ 5D ultrasound technology that can produce life-like images of the fetus. Parents can clearly see the baby wiggling around in the womb, yawning, sucking and kicking.
Increasing Level of Interest from Families
The natural longing of parents to see their baby continues to make 3D ultrasound services very popular. Studies indicate the positive impact of 3D ultrasound sessions on maternal and paternal bonding with the developing baby.
"3D ultrasound is tremendously helpful for parents because they can see their baby as they will see their baby after birth, not in a represented slice, which for parents is hard to understand," said Dr. Mohine, an obstetrician from Hamilton Health Sciences Centre who uses 3D technology for high-risk pregnancies.
Research also suggests a decrease in undesirable prenatal behaviours, such as smoking and drinking after seeing baby's real pictures with 3D technology. It also increases compliance with medical advice, which improves healthy outcomes for both mother and baby. Parents express dissatisfaction with their medical ultrasound scan, citing reasons such as not learning baby's gender and no extra family time reserved by the sonographers. These parents could now experience parental 3D Ultrasound services in a more friendly and relaxed atmosphere.
There is an increasing level of interest in parental ultrasounds, not as a replacement for medical ultrasound, but to develop a bond with the baby and for the parents to feel reassured. To ensure the safety and satisfaction of the expectant families, 3D ultrasounds should be performed by certified technicians in the second or third trimester.
UC Baby® 3D Ultrasound Services
At UC Baby®, our technicians are highly trained and certified professionals using state of the art equipment. The quality of our services has earned UC Baby®  the trust and respect of many obstetricians, family physicians and other health care professionals. This makes UC Baby® Canada's leader in 3D Ultrasound Services.
UC Baby®'s ultrasound service is dedicated to providing quality time for families in a relaxing and comfortable environment. When you schedule an appointment with us, you can be confident that you and your baby are in good hands. Our "Live Broadcasting" service gives families an opportunity to share the "Miracle of Life," with family and friends anywhere in the world through simultaneous internet connection. UC Baby® will record your 3D ultrasound session and save them in USB flash drives or provide you with an access to a secure online account where we store the images. This allows you to view the images right after the session and enables you to easily share the images from the experience to your families and loved ones. We can record the precious sound of your baby's heartbeat during your baby's own Heartbeat Session and then put it into our Heartbeat Bear® to create a one of a kind keepsake for you. It makes perfect gift for parents, siblings or grandparents.
To learn more about UC Baby®'s service and view sample 3D ultrasound pictures, please visit us at www.ucbaby.ca  or call 1-877-682-2229 to book your appointment.
by Dr. Tina Ureten MD, RDMS, RDCS