Every UC BABY parent can make a difference for the environmental home of their children.
For only $5 per tree, a family can donate 1 TREE to celebrate the arrival of their new baby.
For only $5 per tree, a family can contribute to the "UC Baby supports Tree Canada" Program.
DONATE $5 or more to the UCBABY SUPPORTS TREE CANADA Campaign
#UCBABYplantsTREES
We started this campaign before 2021 ended.
UC Baby has donated 700+ trees as a way of thanking the clients and their families for choosing us
to be a part of their precious family memories.
That means a lot to us.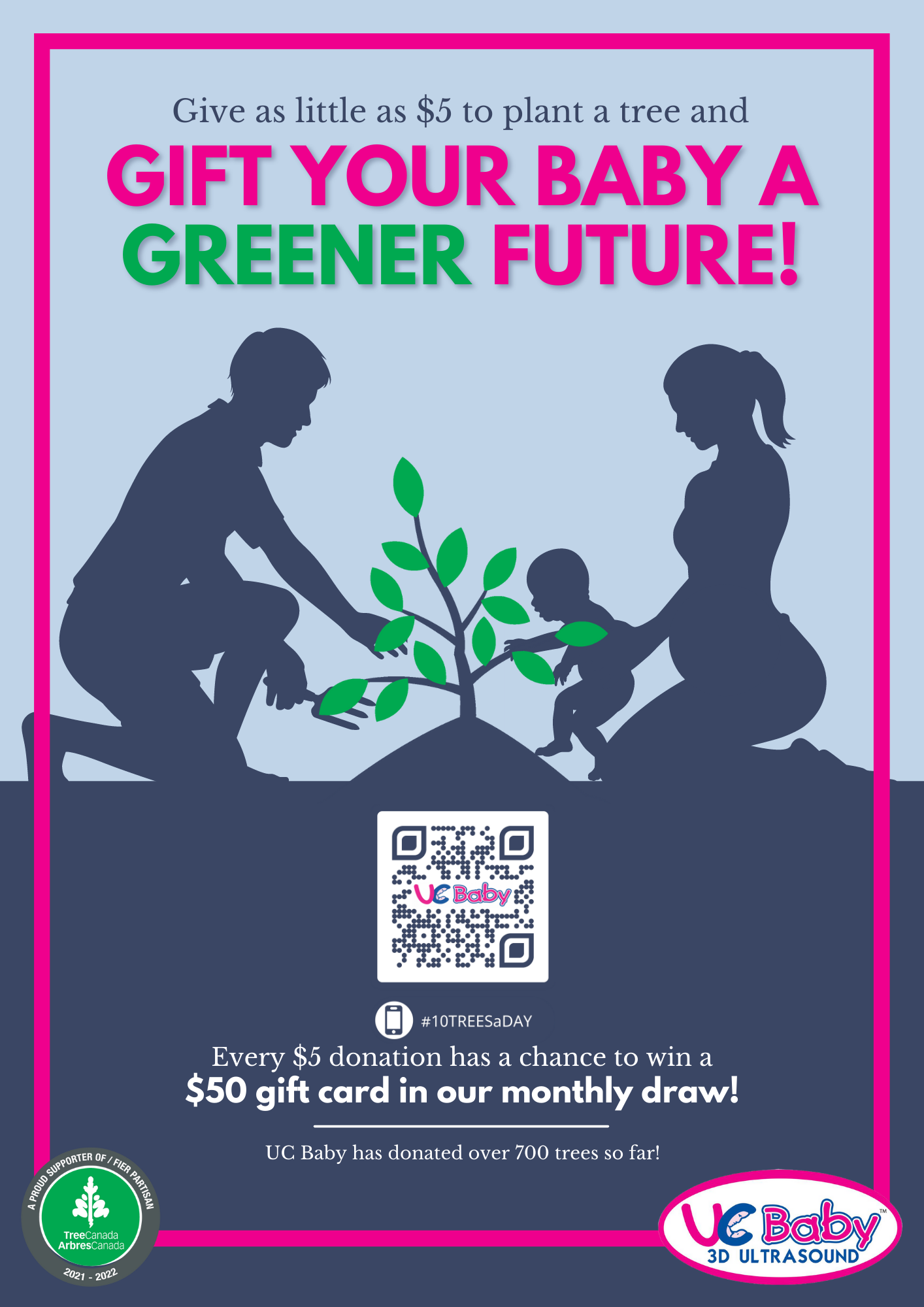 OUR GOAL: #10TreesADay
A collective donation of 10 trees per day means a contribution of 3,650 trees for 2022.

At the end of 2022, UC BABY will donate 1,200 trees for Tree Canada.
It is our hope that every baby will have at least 1 TREE planted on their behalf.
Your donation to celebrate the arrival of your new baby will help plant trees in Canada's five major regions.
Tree Canada's National Greening Program Planting Sites for 2022:
Atlantic & North, Québec, Ontario, the Prairies, and British Columbia.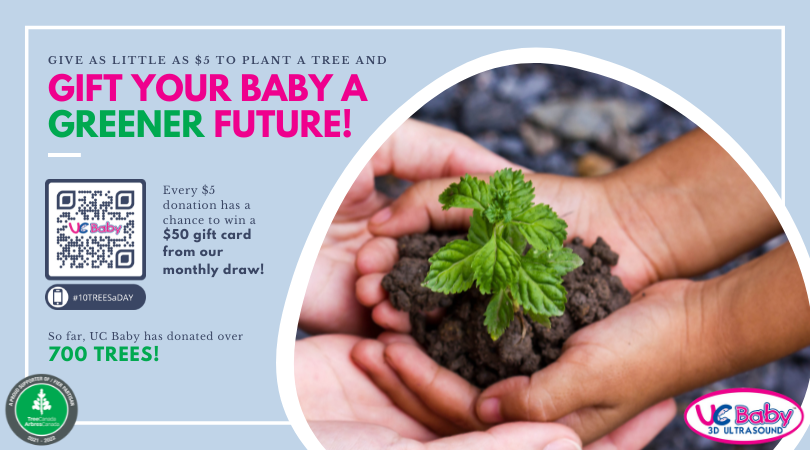 Trees planted through the "UC Baby Supports Tree Canada" Program will:
Slow down the global warming process
Act like "lungs" of the land for cleaner air, healthier soil, and cleaner waterways
Restore forests and wildlife habitat to preserve the world's ecosystem
Bring freshness and health to humans and animals
Prevent storms, floods, and diseases
Provide products and shelter
DONATE $5 or more to the UCBABY SUPPORTS TREE CANADA Campaign
---
To our UC Baby clients, our families, and friends,
We all have individual and collective responsibilities to have a healthy planet that we leave to our children.
Global deforestation brings rapidly increasing natural disasters and shortens the life of our planet. Trees are doing better than us by helping keep our world alive while we destroy it. The future of humankind is dependent on trees, and we need a lot of trees to survive.
Our corporation's leadership proudly started the "UC Baby Supports Tree Canada" campaign to encourage the expectant families to diminish their ecological footprints on mother nature.
We invite the families to contribute to the rapid healing of the ecosystem by planting trees on behalf of the baby they are excited to bring into this world.
Every tree planted with the "UC Baby Supports Tree Canada campaign will give a chance for the babies in the womb to enter a world that can be saved for all generations.
We invite UC Baby client families, their loved ones, and friends to support us in this initiative to plant (at least) 1 TREE for your children's safe and healthy home.
Many thanks to all,
Tina Ureten, MD, RDMS, RDCS
President and Founder, UC Baby
DONATE $5 or more to the UCBABY SUPPORTS TREE CANADA Campaign
---
#UCBABYplantsTREES
We want to leave the world better than how we found it.
Why?
It is for our children and our children's children. It will be the one legacy we can leave behind that truly matters.
The "UC Baby supports Tree Canada" initiative is a fruitful result of a team planning session. We recognize the level of awareness for the UC Baby brand. We interact with many families that come to our doors to make us part of that memorable experience. We acknowledge that we have a unique opportunity to promote environmental awareness to young families.
With that opportunity, we have a responsibility to make a difference in the world where the new babies will live in. The past 2 years of the pandemic should remind us to be grateful for what is and to do something good for what is to come.
We are counting on the support of our UC Baby franchise owners, staff, and the families who have chosen UC Baby to be a part of their pregnancy experience.
We appreciate you,
Donna Costa
Director, UC Baby Marketing and Operations