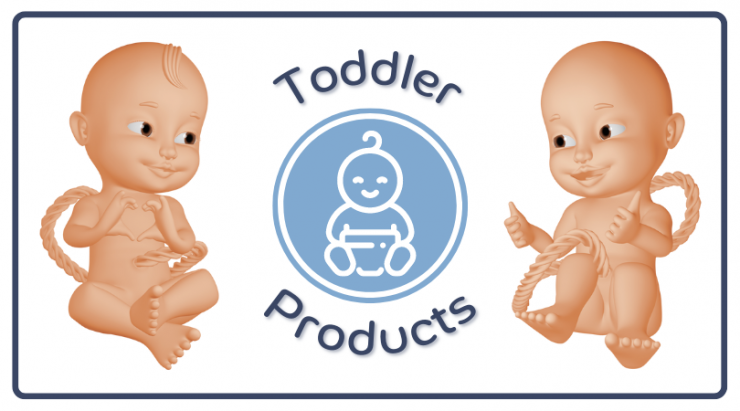 Welcome to UC Baby Faves, a blog that is dedicated to providing honest opinions on our favourite baby, mother, and family products for you and your loved ones.  We are not professional product testers; however, we consistently select each featured product based on five significant factors: value, design, safety, usage, and sustainability.
We always consider certifications and other reputable Canadian reviews for each item. Our goal is to help bring your family convenience, comfort, and happiness through our recommendations.
Avanchy Bamboo Suction Toddler Plate + Spoon: Our Top Choice for Toddler Plates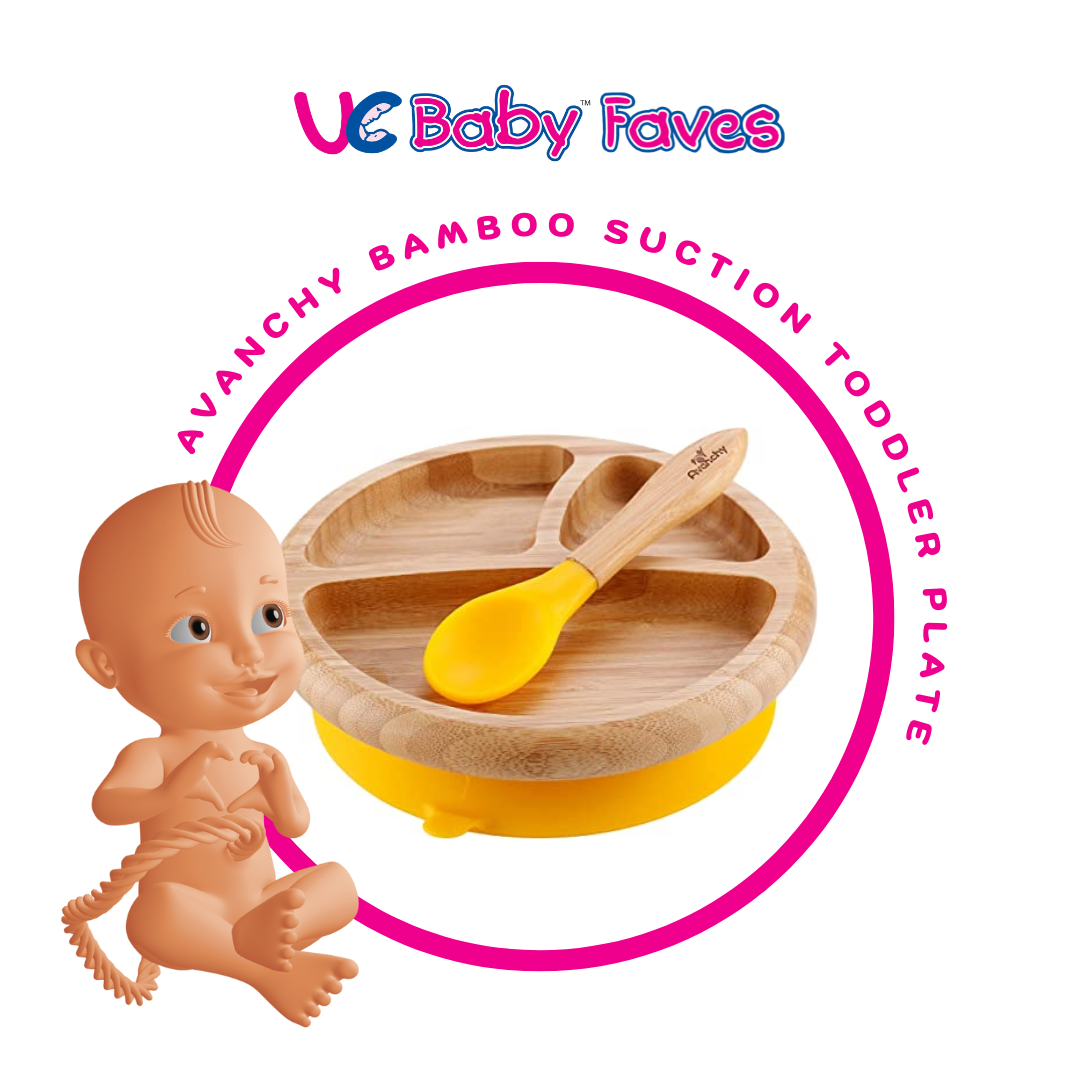 The Appeal of Toddler Plates
Unfortunately, meal time with toddlers isn't always smooth sailing. It can be challenging to ensure that your child consumes a balanced meal when they refuse to eat certain foods. On top of this, the kitchen floor can become pretty messy when toddlers accidentally knock their dishes over. Thankfully, toddler plates are designed to tackle some of these common difficulties.
Divided toddler plates have different compartments to separate your little one's food. This can help make undesirable foods less overwhelming. Additionally, some toddler plates have suction cups underneath to keep them in place. Suction dishware can be an excellent option for parents who wish to minimize mess during mealtime. This also makes mealtime more manageable for your toddler.
Why It's Our Fave: Avanchy Bamboo Suction Toddler Plate + Spoon
We chose this product based on our five UC Baby Faves factors: value, design, safety, usage, and sustainability.
| | |
| --- | --- |
| VALUE | The plate and spoon are priced at approximately 30 to 45 CAD. Although it may not be the most affordable option, we vouch for the product's eco-friendliness, clever design, and safe ingredients. |
| DESIGN | Avanchy's toddler dish set was designed to make mealtime more simple for both parents and toddlers. It helps toddlers eat healthy, balanced meals, as well as keep food spillage to a minimum. |
| SAFETY | The plate and spoon are made from materials that are non-toxic, hypoallergenic, antimicrobial, and antibacterial. The dishes are completely free from harmful chemicals like BPA and phthalates. Its varnish is also food-grade, ensuring that it's safe for your toddler to use. |
| USAGE | The set can be used throughout your little one's toddler years once they grow out of baby plates. It's the perfect piece to complement your growing toddler. |
| SUSTAINABILITY | Made from silicone and 100% biodegradable bamboo, the toddler set is an extremely sustainable option. The plate and spoon can also be used for multiple years. |
Features
Avanchy's bamboo dish set is an ideal option for growing toddlers as the plate is both wider and taller than typical baby plates. There are three compartments to control portions and separate food effectively. Avanchy recommends that parents use the large compartment for ​​vegetables and fruits, the top left compartment for proteins and meats, and the smallest compartment in the top right for carbohydrates.
The suction toddler plate accompanies a spoon with a silicone tip. The handle is non-slip, making mealtime more simple and comfortable. The set is also offered in nine different colours that will suit any toddler's unique style.
The product is made from silicone and organic bamboo that is 100% biodegradable. This environmentally-friendly set contains non-toxic, hypoallergenic, antimicrobial, and antibacterial materials. It's also free of plastic, BPA, PVC, lead, and phthalates. The bamboo's varnish is FDA-approved and certified food-grade, making the dish set both safe for your toddler and sustainable for the environment.
Thoughts From Others
In an article comparing toddler plates, Rachel Murphy shares her thoughts as a toddler's mom. Despite its higher price, she states that the dish set feels durable and lightweight due to its bamboo material. Additionally, the suctioned bottom holds up well to toddlers who play around with their plates.
Easymommylife also shared a product review, mentioning how impressed she was with the strength of the plate's suction. Unlike other suction plates, Avanchy's plate accompanies a vacuum relief lever to make removal from your table easy. Ophira, the author, says that she simply keeps the lever turned away from her toddler while he eats.
Where You'll Find It
Avanchy offers free returns and exchanges for all American shoppers. International delivery is also available. You can find the plate and spoon combo on the Avanchy website, Amazon, The Baby Mama Box, BabySense Boutique, Babyrama, and other online retailers.
Additional Resources
If you're still debating whether to try out a divided plate, look at this article by My Little Eater; it highlights some advantages and disadvantages of these plates. Further, the author discusses when you should start considering using plates with your little one.
For parents looking for advice on tackling picky toddlers, check out this Mayo Clinic article outlining tips to encourage your little one to embrace healthy and balanced meals.
Disclaimer:
All opinions and thoughts shared in this text solely represent the author. UC Baby is not affiliated with the companies or retailers mentioned in our reviews, nor do we receive any payment for discussing their products. All content on this blog is published in good faith and intended to be informational. It is in no way a substitute for professional or medical advice.
References:
The Best Plates For Toddlers And Picky Eaters: Divided Or Undivided?
Children's nutrition: 10 tips for picky eaters
THE BEST SUCTION PLATES AND BOWLS FOR TODDLERS OF 2022
Avanchy Bamboo Stay Put Suction Bowl And Divided Plate Review
Written by: Alicia Chow
Check out other UC Baby Faves products – UC Baby Faves – Hape Walk-A-Long Snail Toy