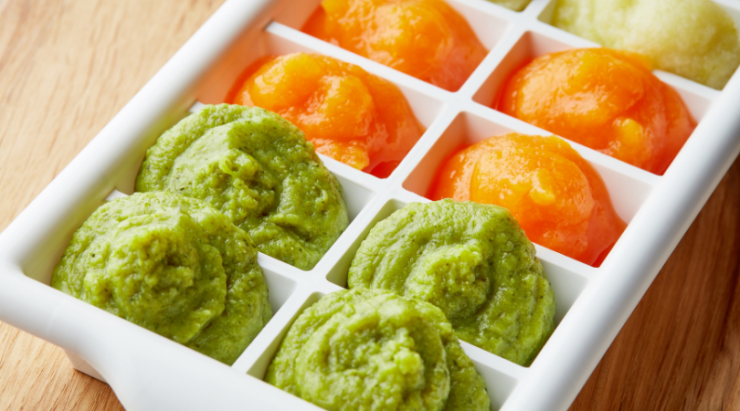 Feeding your baby is a process that requires a lot of trial and error. If you have the time, making baby food can be a good way to figure out your baby's likes and dislikes.  You'll discover how your baby responds to certain flavours, colours, or food textures.
For these recipes, you will need a blender and a strainer. Let's explore six baby food recipes that your baby would love!
1. Oatmeal Cereal
This combination is an excellent source of fibre. Place oatmeal in a blender to grind it down to a powder. Then, add boiling water and the oatmeal powder to a bowl and whip it together until fluffy. The ratio of oatmeal powder to boiling water should be 2:1. Combine mixture with breastmilk or formula and stir or blend.
2. Butternut Squash and Sweet Potato Purée
This combination is a great way to give your baby lots of Vitamin A. Slice the butternut squash and sweet potatoes into manageable cubes. Preheat the oven to 450 degrees Fahrenheit and roast the vegetables until tender and lightly browned. Once they cool down a bit, purée them in a blender. Add a dash of cinnamon to the mixture to enhance the flavour.
3. Blueberry Purée
This dish is a super source of antioxidants for your baby. Place either fresh or frozen blueberries in a blender and mix until it's a purée. Strain the mixture and add whole milk yogurt. Another option is to add flax seeds or hemp seeds to the blender. This recipe can also be combined with the Oatmeal cereal recipe above to make a delicious dish for your baby.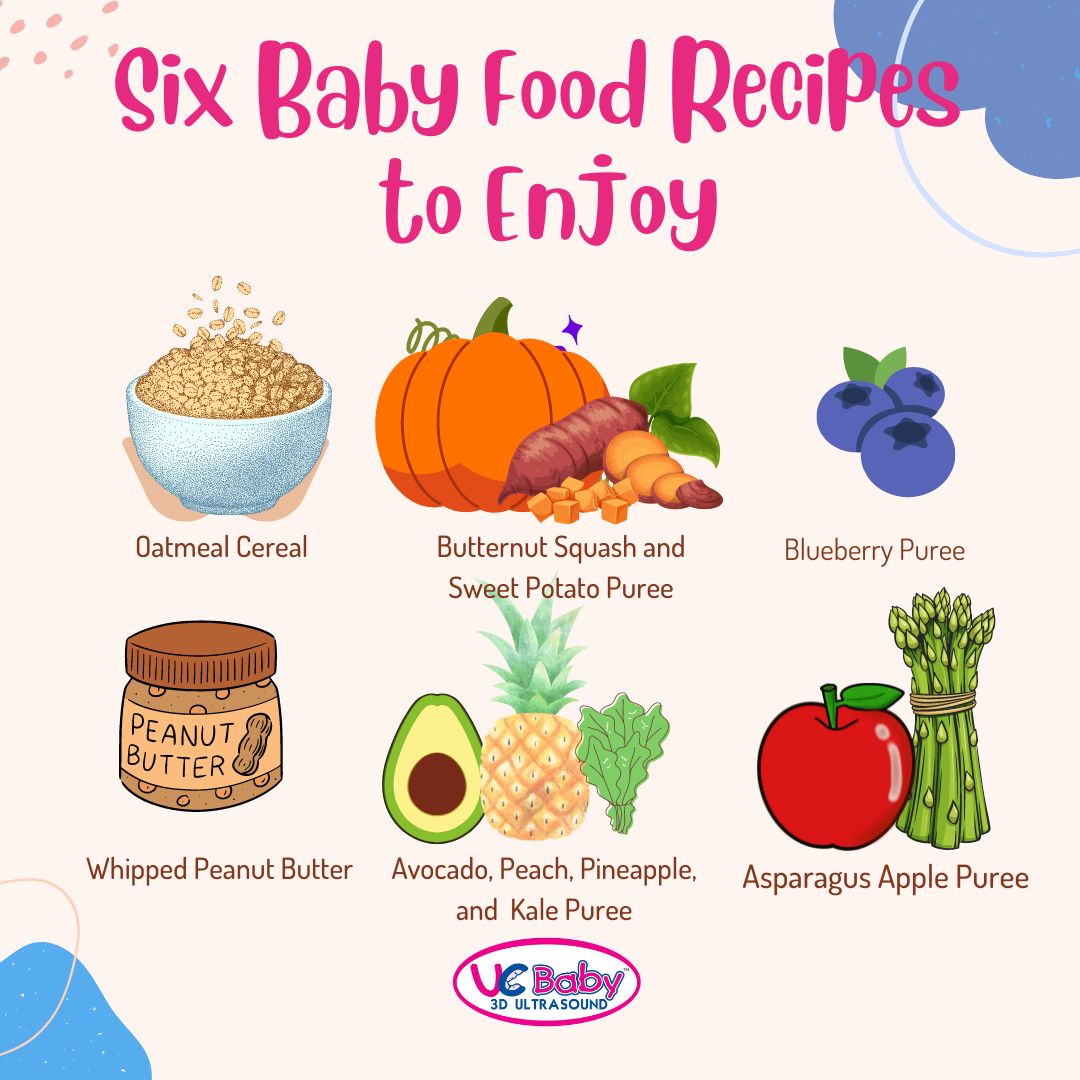 4. Whipped Peanut Butter
This option is an excellent source of protein for your baby. For this recipe, you'll need unsweetened peanut butter and water. The ratio should be two spoons of peanut butter to one spoon of water. Combine the two in a bowl and whip them together. This may be easier with a whip than a spoon. Whip until the consistency is soft and close to yogurt.
5. Avocado Peach Pineapple Kale Purée
This is a great source of healthy fats and fibre for your baby. Cut, slice, peel, and pit a whole avocado. Peel and pit a whole peach. Slice a ½ cup of pineapple. Add the peach, pineapple, and ½ cup of kale to a steamer. Steam until soft and then combine with avocado in a blender. Once the mixture is thoroughly blended, use a strainer to smooth the mixture. Add breastmilk to thin the purée.
6. Asparagus Apple Purée
This is a great source of vitamins A, C, and fibre. For this recipe, you will need breastmilk, formula, or water, one bunch of asparagus, and one apple. Peel and slice the apple and place in a steamer with the asparagus. Steam until soft and then place in the blender. Blend until smooth, and then strain to thin the mixture. Once that is done, add the breastmilk, formula, or water to the mixture.
It's important not to feel pressure to make your baby food. It is simply a good alternative if you have the time. These combinations are all incredibly nutritious and should be tasty for your baby. It also helps that most of these ingredients and appliances would be in your home already. Bon Appetit!
REFERENCES:
10 Easy Homemade Baby Food Ideas
Written by: Gabrielle Goldson
Check out our blog: 8 Most Important Baby Sleep Tips