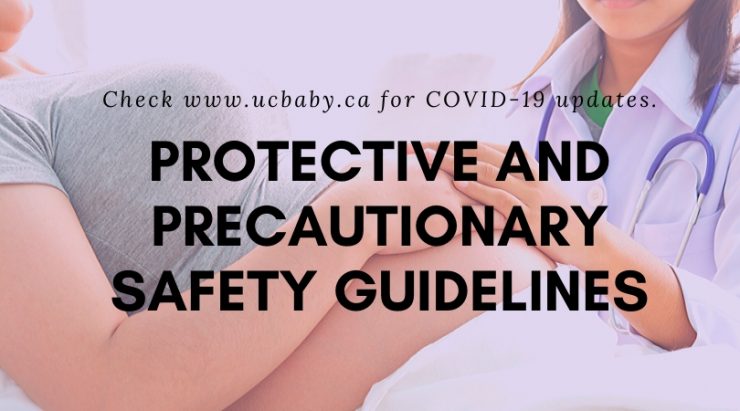 As we get ready to open the UC BABY businesses in the different provinces, our priority continues to be the health safety and confidence of our clients, their families, and our UC BABY team. We want to ensure that we have protective and precautionary guidelines in place.
We immediately revised our operational practices at our UC Baby clinics all around Canada.  As our business is considered as "elective health service," we are carefully taking the following precautions as new COVID-19 era's safety guidelines.
Precautions taken Before Client's Visit:
Ask about clients and their partner's travel history during appointment booking.
Ask about any recent flu symptoms, such as cough or fever, when accepting appointments.
Ask about any contact with COVID-19 infected person.
Leave adequate gaps between client bookings.
Ask clients to come with masks and gloves.
Inform clients about 1-guest policy for each visit.
Offer clients FREE Live Broadcast as a routine option.
Ask clients to stay in their car if they arrive early for their appointment schedule.
Precautions taken In the Waiting Area and Washrooms:
Use proper sanitation measures at the entrance and in the washroom area.
Provide personal protective equipment such as gloves, face mask, face shields and lab coats or gowns for staff.
Offer facemask and gloves for the clients and guests during their visit (for a fee).
Provide soap, water, alcohol-based hand sanitizers, or sanitizing wipes at the entrance.
Inquire proper hand-washing for clients and guests if they don't wear gloves.
Provide adequate ventilation and air conditioning. Avoid central air circulation.
Manage the physical distancing protocols at the waiting rooms by installing clearly visible markings, if necessary.
Use plexiglass barrier at the reception, if needed.
Maintain a safe distance while handling goods and taking payments.
Properly clean the washrooms, doors and door handles.
Sanitize commonly touched surfaces or devices.
Restrict the number of people on-site to 5 including staff members.
Limit the number of the client's guest to one person.
Limit entrance of other people during clients visits.
Credit and debit card payments are preferred.
Minimize cash handlings and maintain a safe distance while taking payments.
Provide safe disposal of used protective devices, wipes and garbage.
Regularly clean and disinfect surfaces touched by clients and guest.
Precautions taken in the Ultrasound Room
Accept only the spouse/partner to the scan room. Live Broadcast is an alternative and safer option for other family members and friends.
Keep physical distance between sonographer and guest the whole time.
Keeping appropriate physical distancing between the sonographer and the mother is not possible, but extra measures would be applied by using protective clothing and not extending the scan time.
Wear gloves, facemasks and gowns during the scan sessions.
Ask clients not to use their cell phones in the scan room.
Wash hands after each client appointments.
Meticulously clean the probe, bed, pillows, chairs, door handles and tables with antiseptic solutions after each client.
Precautions taken at the end of each day:
Clean the whole facility with sanitizers.
Wash hands with soap at least 20 seconds.
Clean the ultrasound machine and all the other devices in the ultrasound room and the reception area including computers, printers, TVs and remote controls.
Change staff members' clothes and wash them at high temperature at home.
Staff members should not go to work if they have any flu symptoms or anyone in their household is diagnosed positive for COVID-19 infection.
To our valued clients,
We hope that you and your families are staying safe and healthy during these challenging times. Your safety, and that of your families, continues to be at the forefront of our minds.
Sincerely,
Tina Ureten, MD, RDMS, RDCS
President of UC Baby