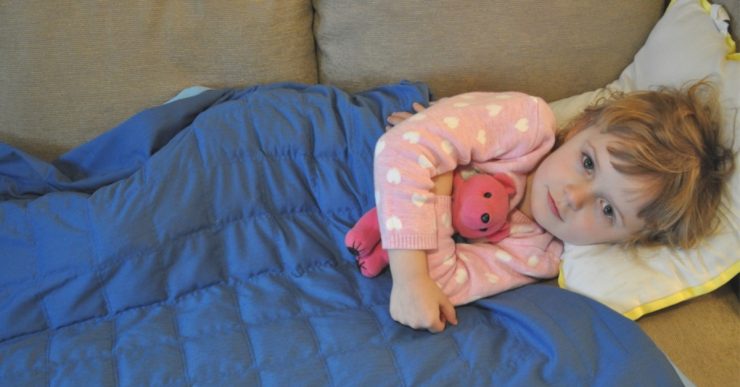 We've partnered with BB Blankets  to give away an amazing  $179-value prize that can be used by anyone in your family.  – a  BB Weighted Health Blanket !
Enter your name for a chance to win a BB Weighted Health Blanket ($179-value)!
Click here to join the contest.
Weighted Blankets for Children
Recent trials have shown the benefits of weighted blankets for children, as well as adults. Here are some of the observed benefits:
Reduces anxiety and stress
Improves quality and quantity of the sleep
Improves memory and concentration
Increases energy and focus level
Eases restlessness and irritability
How do Weighted Blankets work?
The relaxing and calming effect from weighted blankets is explained with increased serotonin release due to Deep Pressure Stimulating – DPS-effect. The research initiatives are done using weighted blankets filled with plastic pellets or metal / glass balls.
A study done on ADHD children with weighted blankets in Denmark showed;
Improvement on sleep quality with less awakenings
Extended sleeping time after 14 days of usage
Shortened falling sleep time
Improved attention span
Improved activity level
What Makes BB Weighted Health Blankets Unique?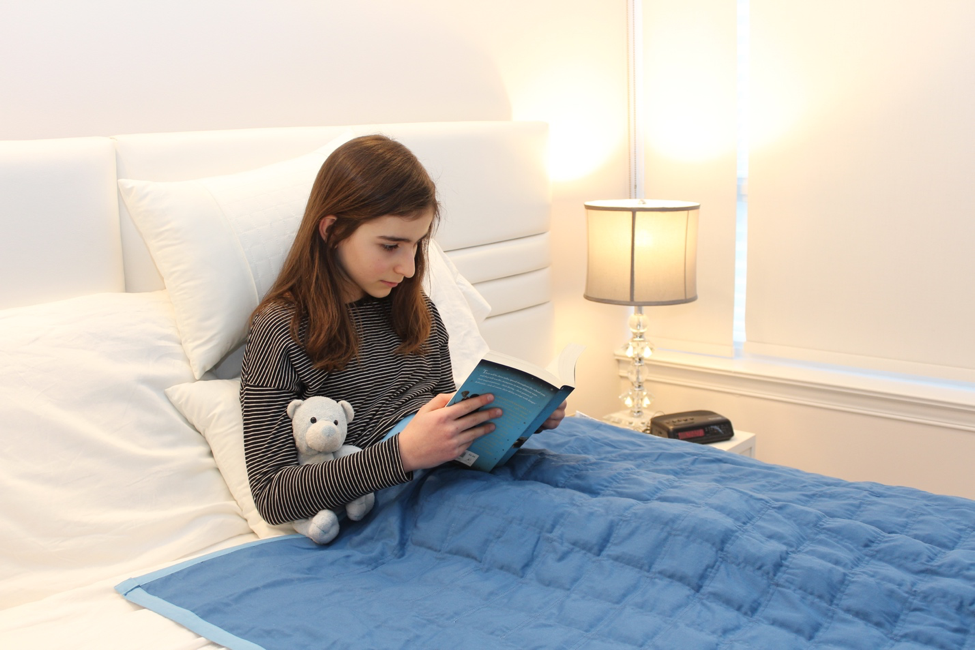 BB Weighted Health Blankets & Pads are developed by a Canadian medical doctor by applying nature's own remarkable healing properties. BB Weighted Health Blanket's health benefits come from the physical interaction between the body and the natural minerals in the blanket.
BB Weighted Health Blanket's Fabric and Bio-Ceramic Pellets
The uniqueness of BB Weighted Health Blankets come from the use of Far Infrared Ray – FIR- energy added to weighted blankets. BB Weighted Health Blankets are made with special FIR emitting health fabrics. Another important feature is about the blanket's weight. It is created by bio-ceramic pellets which consist of naturally FIR-emitting minerals.
FIR (Far Infrared Ray)
FIR energy regulates the metabolism and body temperature. FIR also increases the blood circulation of the tissues. The weight from bio-ceramic beads provides DPS (Deep Pressure Stimulating) and massage effect to the body.
With combination of these two effects, BB Weighted Health Blankets are safe alternative for children and teenagers with following conditions:
Restlessness or hyperactivity
Sleep deprivation
Anxiety and depression
Fatigue and Tiredness
Cognitive Disorders
ADD/ ADHD
AutisticDisorders
Chronic Pains
Stress and lack of Relaxation
BB Weighted Health Blankets can also be used by anyone just to improve the life, health and wellness.
Order Online
You can now purchase a one-of-a-kind, patented BB Weighted Health Blankets for your children over 4 years of age.  You can order your BB Weighted Health Blanket online at www.bodybenefitblankets.com