Déjà vu….only on another level…..
A personal story shared by Doreen Haddad, UC Baby Montreal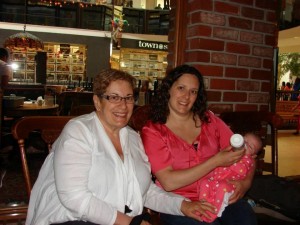 The moment I laid eyes on her face….on an early cold April 2nd through my cellphone, my life changed forever. I will never forget that morning.
My husband and I were doing our routine morning preparation of coffee, breakfast and I was preparing a brown bag for lunch when my son in law called to say that Paige was born and was beautiful. Shortly the first picture arrived. Standing in the kitchen, tears swelled in both my eyes and in my husband's eyes. We became children again, in awe of her innocent beauty cradled in Kim's arms.
Little did I know then that Kim had struggled through her labour which resulted in a c-section.  Kim called me at the office here in Montreal later to tell me this. I cried for not being at my daughter's side in Edmonton and for she not having what she expected and planned for, a natural child birth. But she and Paige were well and safe and that was all I cared about.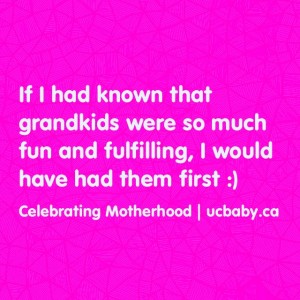 Six weeks later, my husband and I flew out to meet Paige. Seeing Kim so well organized, I started to learn again after 32 years on how to take care of an infant. I asked myself didn't I do this twice in my  life…I thought it was going to  be like  getting back on a bicycle…but to my surprise it wasn't. Fear set in as I tied to feed and burp her. Kim was guiding me. I really felt like a newbie. It seemed that my husband Jules felt more comfortable. Paige loved being in his arms and would follow his soft demure with little smiles and gurgles of happiness.
The first year I received daily pictures, texts and was kept in the loop of every new accomplishment that Paige made.  I saw so many changes. Paige was growing, moving, smiling and experiencing new foods, her first snow fall, and making little friends.
When Paige turned 11 months her parents announced to us that they were moving to Ottawa. We were delighted that they would be closer to us. We could be more present in Paige's life.
Each time we are together seems like a new experience. She is growing so quickly. She understands so much and has quite a large repertoire of words in her vocabulary. Paige loves Daniel Tiger's Neighborhood. She calls him DT and points to the television. Paige also has a growing collection of books. She doesn't go anywhere without a book.
Christmas is coming and the excitement is starting to mount in our household. I think we grandparents are more excited for Christmas! What cookies will we bake to leave out for Santa? How will Paige react to the bright lights that will adorn the tree? Will she be excited Christmas morning when she sees what Santa left her under the tree?
Of course we will read together just before bedtime "Twas the Night Before Christmas"
I rejoice that I get to relive my youth again as a grandmother. I may be not as fast and have the same energy level I did thirty some years ago…but I come to life each time I am with her. Exploring new foods, helping to toilet train her, teaching her how to color and reading stories fulfills me. I feel renewed.
It is the same feeling I have each day here at UC Baby. Each time I listen to a baby's heartbeat, or admire the beautiful pictures, I rejoice in the new birth, the excitement and anticipation of the new parents to be, grandparents and sometimes even the great grandparents who are gathered here at the office to witness a very special and important moment.
Life is about family. I feel blessed. I wish you all a joyous Holiday Season. Embrace those special moments.