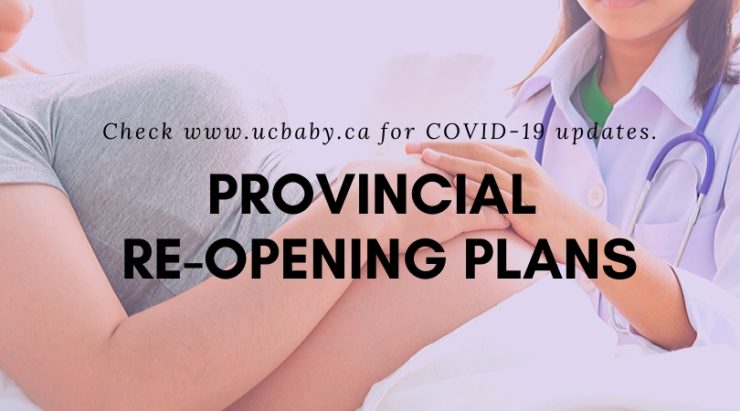 The Prime Minister announced that the re-openings would be decided and planned by the provincial governments. Please stay tuned for updates from your local government and contact the nearest UC Baby location for any re-opening schedules.
*️⃣ MAY 14, 2020 UPDATE *️⃣
ONTARIO:  As we listened Premier Ford's announcement today, we did not get a clear indication whether we would be allowed to open after May 19th. The initial information was about releasing the restrictions for elective health care services, personal consultations and similar services as Stage 1 re-opening plan. However during the questions session, the premier said that the services such as haircuts, nail cares, massage therapies have to wait for the undetermined date for their re-opening plans.
There was also this detailed list of services that would open on May 19, which included "Parenting Services."
Detailed List of Stage 1 Openings
Based on the conflicting information, we decided to contact the Ministry's help line for our businesses. The person who took the call confirmed that our businesses can open as long as we are ready with all precautions to protect ourselves and our clients. 
Based on this conversation, we can announce that UC Baby locations are permitted to open their services after May 19th by strictly following our list of precautions which are listed on our May newsletter and announced on our web site.
https://www.ucbaby.ca/protective-and-precautionary-safety-guidelines-for-uc-baby
If you need any masks, gloves, sanitizers, gowns, coveralls and guards for your location please use this government's web site to order them from Ontario PPE supplier directory.
……………………………………………..
*️⃣  MAY 11, 2020 UPDATE *️⃣ 
Here are the recent provincial updates
Ontario: The government extended all present emergency orders until May 19, as the novel coronavirus pandemic continues. Starting today, all retail stores with street entrance can offer curbside pick up. Also 520 provincial parks and conservation reserves are open to day-use only while maintaining physicial distancing. 
Quebec: Despite having the highest number of cases in the country and reached the total number of 3000 deaths, businesses, the schools and daycares reopened today in Quebec excluding Montreal area. Premier announced that retail stores in the greater Montreal region can reopen around May 25.
BC: Gradually allowing more economic activity, easing lockdown for some sports activities, retail businesses and hair salons. The province keeps some restriction with reducing the number of people in close proximity and avoiding any travelling plans for the whole summer. There was a biggest drop of the active case numbers on Saturday May 8th.
Alberta:  Loosened restrictions for businesses starting from May 1st. The provincial set date for reopening all the businesses is May 14th.
Saskatchewan: 5 stage reopening started on May 4th. Retail stores and salon service will reopen on May 19th.
Manitoba: Phase-1 reopening started on May 4th and June 1st is the scheduled date for all businesses to open including restaurants.
NB:  Second stage of reopening is expected next week and the 3rd stage would follow a week after.
NS : The state of emergency is still in effect. Last week's announcement extended the same situation with lock down and restrictions for businesses from May 4 to May 17th
NL:  State of Emergency still in effect and reopening of non-essential businesses set for June 8th.
………………………………………….
*️⃣  APRIL 28, 2020 UPDATE *️⃣ 
We gathered the information below about province-based re-opening plans from the most recent news. Some of the provincial authorities are due to make important announcements this week.
ONTARIO province released a plan to gradually re-open the businesses without firm dates. However, a 2 to 4-week decrease in the new cases is expected before making any plans to loosen restrictions and to gradually re-open the city. The government has 3-stage process:
Stage 1:  opening select workplaces, parks and allowing some small gatherings with public health guidance
Stage 2: opening more retail and service industries and outdoor spaces, allowing larger gatherings
Stage 3: further relaxing restrictions on public gatherings, and "opening all workplaces responsibly
Large gatherings such as concerts and sporting events will continue to be restricted for the foreseeable future.
SASKATCHEWAN unveiled a 5-stage plan aimed at reopening its economy last week, which is set to begin on May 4.
NEW BRUNSWICK came out with its own 4-week opening plan last week, after 6 days of no new cases. Similar announcement is expected from NL this week as non-essential businesses remain closed.
QUEBEC's Premier outlined a plan to gradually reopen schools and daycares over the next month. He will announce a plan this week to allow some businesses to reopen.
BC never ordered to close many businesses during the pandemic, even though many businesses voluntarily kept closed like ours. B.C.'s state of emergency public health orders is expected to be changed in the coming days.
ALBERTA's all non-essential businesses remain closed. No new plan is released to reopen its economy.
MANITOBA's Premier will be releasing information on how he plans to reopen non-essential businesses in the province this week.
In NS gradual lifting of restrictions will be discussed with the premier this week. Non-essential businesses would stay closed until the next announcement of the government.
For more information please check:
https://www.ctvnews.ca/health/coronavirus/where-each-province-and-territory-stands-with-reopening-1.4913652
I hope each of us doing well and coping this difficult time with good health and positive attitude.
Sincerely,
Tina Ureten, MD, RDMS, RDCS
President of UC Baby