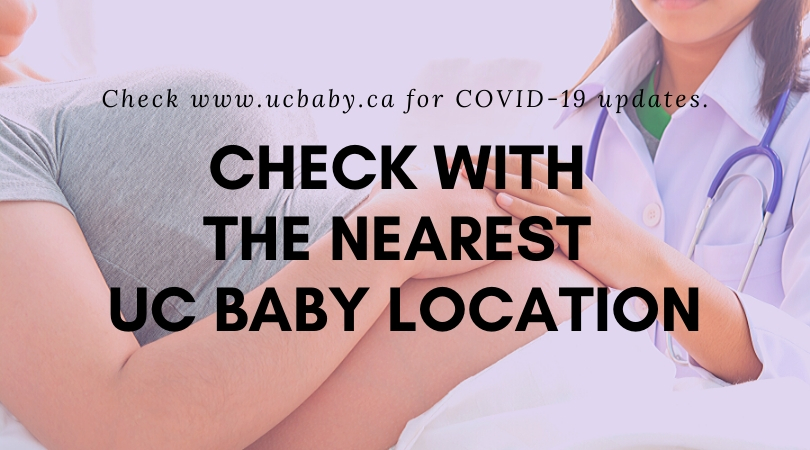 Dear UC Baby Family,
I hope that everyone has been staying safe and healthy during this extremely difficult time.
Update  April 22:
*️⃣ COVID-19 UPDATE: UC Baby closed until May 12 for ON and QC Provinces *️⃣
With the recent announcements from the corresponding local governments, we are extending the closure of our Ontario and Quebec UC Baby locations until May 12.  We will keep you posted with any new developments for possible extensions.
Due to different regulations from different provinces,  kindly contact the nearest UC Baby locations for any updates on their re-opening arrangements.
………………………………………
Update  April 13:
*️⃣ COVID-19 UPDATE: UC Baby closed until April 23 *️⃣
The provincial and federal governments don't show any signs of lifting the prevention measures for this week. Ontario has its strict measures set until April 23rd. Most of the provinces are watching their numbers and waiting for the flattened case graph which is not happening yet.
Based on these facts we would extend the closure of our UC BABY businesses until April 23rd. The decision of resuming our operations after April 23rd would be based on the national and provincial situations. We will later make the decision based on the situation in each province and the restrictions set by the local governments.
………………………………………
Update March 31:
*️⃣ COVID-19 UPDATE: UC Baby closed until April 14 *️⃣
The Ontario Government has extended the declaration of emergency for another two weeks today. Since the whole country is under the same threat, we all should take the same precautions to keep the spread under control. That means our non-essential businesses have to stay closed.
Constant warnings and restrictions for public gatherings and social distancing are coming from all provincial governments. Everyone needs to stay home and practice social distancing. If restrictions are removed too quickly, there would be a rapid resurgence of the spread of the virus. The nationwide concern is to prevent overwhelming our health care system with the dramatic increase in the number of cases. Our hospitals are better equipped to deal with a series of smaller waves than one big wave. Considering all these circumstances and measures, we have to stay closed for another two weeks until April 14th.
The reality is that the virus has hit 178 countries and killed almost 40,000 people so far. We don't want to be another Italy, Spain or NewYork….
We have to act responsibly and protect ourselves, our families, our clients, our communities and our country first. We need to win this war all together!
Sincerely,
Tina Ureten, MD, RDMS, RDCS
President of UC Baby